Small Group Escorted Tour to Devon and Cornwall 5 Days from London
Departs London

Small group tour - limited to 16 persons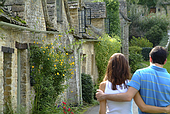 Day 1 WINCHESTER/DURDLE DOOR/EXETER
Depart London and travel out through the old kingdom of Wessex to its ancient capital – the historic city of Winchester. Having explored this fascinating old town with its magnificent cathedral and historic Great Hall, your tour will continue to the dramatic south Devon Coast enjoying panoramic views over white sandy beaches and the natural rock arch of Durdle Door. An afternoon here to explore some of the coast before arriving at the historic city of Exeter, an important fortified settlement in Roman times, your base for 2 nights.


Day 2 DARTMOOR/EXETER
Your morning is spent exploring the magnificent wilderness of Dartmoor, the ancient "Clapper Bridge" at Postbridge and the historic market town of Tavistock, home to Sir Francis Drake. Return to Exeter in the early afternoon to explore this Roman town, with its underground passages, ancient walls, Royal Albert Memorial museum and its famous 12th century Norman Cathedral. Your second night is spent here.
Day 3 BODMIN MOOR/TINTAGEL
Travel west into the heart of Arthurian legend country and the Celtic Kingdom of Cornwall. The day's highlights include the ancient capital of Cornwall, Launceston with its 12th century Norman keep perched overlooking Bodmin Moor. This is an area where legends abound – tales of piskies and spriggins, the Beast of Bodmin and the resting place of King Arthur's sword Excalibur in Dozmary Pool combine to make this a very special place. Continue to the north Cornish coast and the mediaeval fishing village of Boscastle with its distinctive harbour. Nearby are the romantic cliff top ruins of Tintagel Castle, birthplace of King Arthur which you will have the chance to explore before travelling south to the seaside University town of Falmouth for the next 2 nights.
Day 4 PENZANCE/ST. IVES/FALMOUTH

Explore the most westerly tip of England on this magnificent day taking in the incredible Minack theatre built into the cliffs overlooking the Atlantic Ocean and the beautiful National Trust beach at Porthcurno. You may even see some pirates at Penzance! England's most westerly point beckons at Lands End before following the dramatic coast, with windswept moors and old stone Celtic communities up to the artistic haven of St. Ives. Returning to Falmouth for the night.
Day 5 GLASTONBURY/LONDON
This morning you say farewell to Cornwall and travel back through the Devon countryside with stops for photos and refreshments before arriving in the famous little town of Glastonbury for lunch. Glastonbury Tor rises high above the town and has mythical connections with King Arthur and Avalon. From here you will travel back eastwards for the final highlight - the famous Neolithic standing stone circle of Stonehenge before returning to London, a city completely removed from the experiences you have enjoyed in the magical counties of Devon and Cornwall.
| | | |
| --- | --- | --- |
| Exeter | B&B: Exeter Townhouse, The Bendene | Hotels: St Olaves, Jurys Inn, White Hart Hotel |
| Falmouth  | The Grove  | Merchants Manor, St Michaels Hotel, Gyllyngvase House Hotel |
Questions? Call Lynott Tours at 1 (800) 221-2474 USA Canada; 01 516 248 2042 ELSEWHERE
Please Email Us For Information
DEPARTS 9.00 RETURNS 19.30
Inclusions: 
Transportation by top of the range Mercedes minicoach for a more personal experience with a maximum of 16 passengers on tour. 
We believe a small group tour with a maximum of 16 passengers really does make a big difference to your trip. It allows us to give you a more personal service and remain the only 5 Star operator to offer this personal guarantee. Touring with a maximum of 16 passengers you get more for your money, more personal attention, more time with the locals, more time off the bus, more time on the back-roads and just more of an authentic, friendly experience. The smaller groups allow you to meet people from all over the world and make friends for life. 
Air Conditioning as standard. 
Services of a professional driver/guide
Accommodations; room with bath and breakfast
Exclusions: 
Meals and refreshments. 
All Visitor Attractions. 
 
| | | | | |
| --- | --- | --- | --- | --- |
| 2016 | Apr-May | | | |
| | Oct | | | |
| | 19/Dec/16 to 04/Jan/17 | | Jun-Sep | |
| | Adult  | Child  | Adult  | Child  |
| B&B | $911 | $730 | $983 | $788 |
| single | $1,036 | $0 | $1,090 | $0 |
| Hotel | $1,054 | $845 | $1,072 | $857 |
| single | $1,198 | $0 | $1,233 | $0 |
| 4 * supplement pp/ package  | $226 | $0 | $242 | $0 |
| | |
| --- | --- |
| Saturday | MAR 19-OCT 29 (EXCEPT MAR 26, AUG 27, NOV 19, DEC 3, DEC 17, FEB 4, '17, FEB 18, '17, MAR 4, '17, MAR 18, '17) |
| Monday | MAY 25 TO OCT 3 |
| Wednesday | JUN 1 TO SEP 21 |
Cancellation Penalties: Land: Penalties per person apply: 70 days or longer: Forfeiture of deposit 69 - 46 days: 35% per person 45 - 22: 45% per person 21-1 days 100% per person Travel Insurance from $60
Call 1-800-221-2474   9AM - 5PM or Please Email Us For Information

2017
June 1-Sep 30
May, Oct, Easter, Christmas
Jan-Apr
Adult
Child
Adult
Child
Adult
Child
B&B
$921
$736
$857
$686
$787
$630
single
$1,000
$0
$952
$0
$873
$0
Hotel
$968
$775
$937
$749
$841
$673
single
$1,191
$0
$1,143
$0
$1,064
$0
on request only 
4 * supplement pp / package
$231
$0
$215
$0
$0
$0
Departs
Returns
Saturday
18MAR17 - 31MAR18 (except 15APR17, 27MAY17, 26AUG17, 23DEC17 and 30DEC17)
9.15
19.30
Monday
24APR17 - 23OCT17
Wednesday
31MAY17 - 27SEP17 (except 23AUG17)
Friday
02JUN17 - 22SEP17 (except 25AUG17)


Private tour to Devon and Cornwall 5 days.

Whether its browsing the antique or craft shops, ambling along the cobbled pedestrian areas or hiring a small boat and drifting along the river, there are many things to do in Devon and Cornwall. Cornwall, where the melodic voices of fishermen singing sea shanties still reverberates around quaint fishing villages. The popular legend of King Arthur has many of its roots here in the West Country, too.

Self drive tours, and walking tours are also available.

Questions? Call Lynott Tours at 1 (800) 221-2474 USA Canada; 01 516 248 2042 ELSEWHERE Please Email Us For Information


Day 1 - London – Oxford – Bath – Bristol This morning , we make our way to the first stop of our day, Oxford. Here we will visit one of the University's Colleges and we continue on a scenic drive through the Southern Cotswolds, to Bath. We will admire its Georgian architecture and stop to visit the Roman Baths. Next we're off to nearby Bristol.

Day 2 - Bristol – Plymouth (2 nights) This morning after a drive to admire the rugged beauty of Cheddar Gorge, we continue on to Glastonbury the legendary burial site of King Arthur, with its Abbey ruins. From here we drive into Devon taking us by the wild and rugged Dartmoor National Park, and to the historic naval port of Plymouth, where the Mayflower sailed from. The boggy moorland of Dartmoor contrasts with the genteel towns of the coastal areas. The Remains of the Day was filmed Powderham Castle, Devon, and Corsham Court in Devon, and Bath. Anthony Hopkins as a butler comes to realize that his loyalty and respect for his employers has been misplaced.


Day 3 - Cornish Excursion We enjoy a delightful day touring this beautiful area and rugged coastline. We will visit the artists' colony of St. Ives, Land's End, and St. Michael's Mount near Penzance. Lands End will also provide spectacular views this time across the Atlantic Ocean as, at this point you are standing on the most westerly point of the English mainland. The rugged coastline, colored by the setting sun and seagulls and terns circling overhead will provide one of the most everlasting memories of your visit. St. Ives, an old fishing port and an artists colony full of character. Its also the home of the Tate Gallery, a superb building that offers a unique introduction to modern art and the stunning Barbara Hepworth Museum and Sculpture Garden.


Doc Martin is a comedy drama and is filmed on location in and around the fishing village of Port Isaac, Cornwall, with filming of most interior scenes and production carried out in a converted barn at a local farm.
Day 4 -
Plymouth – Tintagel – Taunton
Our first stop this morning will be at Tintagel for views of the ruined castle, reputed to be the birthplace of King Arthur. Our drive continues to the picturesque and steeply cobbled village of Clovelly. Finally we make our way to the Devon town of Taunton for the night. The Dracula 1979 film was made at Tintagel, St. Michael's Mount. Tintagel Castle is owned by the Duchy of Cornwall. In legend it was King Arthur's Castle fortress and was believed to have been constructed around AD1140. It was built by Earl Richard of Cornwall, the youngest son of King John.
Day 5 -
Taunton – Stonehenge – Salisbury – London
We drive past Lorna Doone's famous Exmoor as we leave the West Country. Today, the lush Devon landscape draws thousands of fans of the 19th century novel each year, keen to relive the moment Lorna is felled by a bandit's bullet at the altar. Then we cross Salisbury Plain to the ancient and mysterious monoliths of Stonehenge. From here we continue to our next stop at Salisbury Cathedral. Finally, we return to London.
Price Includes:
Deluxe private car/minicoach transportation
Driver/guide throughout
First-class accommodations for 4 nights; room with private bath
Bristol Victoria Square Hotel 1 night,
Plymouth Duke of Cornwall 2 nights
Taunton Rumwell Manor or Shrubbery 1 night
4 breakfasts (B)
All taxes and service charges
Sightseeing at added cost: Tintagel, King Arthur's Country, Plymouth, Stonehenge, Salisbury Cathedral
Special Features: Scenic highlights: romantic Dartmoor, Land's End, Clovelly village
Daily departures, just for your party Single supplement $320 when sharing car with others.
Rate per person
| | | | | |
| --- | --- | --- | --- | --- |
| 2016 | # PERSONS | 2 | 4 | 6 |
| USD | RATE PER PERSON |            3,793 |            2,037 |            1,545 |
Call 1-800-221-2474   9AM - 6PM or Please Email Us For Information
Walking tours of
Devon & Cornwall
Totnes is ancient town with a weekly market in Elizabethan dress. There are 66 houses in Totnes that date to before 1700.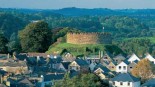 Markets Totnes has regular outdoor markets on Fridays and Saturdays. During the main season, between May and September, there is an Elizabethan market each Tuesday morning, where local people and traders go about their daily business dressed in Elizabethan costume. The Elizabethan market runs alongside the all-day craft market in the town.

The Ancient Leech Wells The Leech Wells can be found at the top of the town in an area known as the 'Narrows' — a collection of claustrophobically narrow streets echoing back to Totnes' past. If you follow the High Street up to the top of the town, it levels out and curves round to the left. If you walk along Leechwell Street, you will come to Totnes' oldest pub — the 17th century Kingsbridge Inn. Adjacent to the pub, you will find the narrow passage known as Leechwell Lane, leading back down the hill. The passage leads you to the site of Totnes' three ancient wells, where water flows from springs into three granite troughs. The waters in the wells were believed to have medicinal properties and as such, were administered by specially appointed Town Wardens. The healing waters in the Leech Wells were for a long time a point of pilgrimage for Lepers, in an attempt to cleanse themselves of their terrible affliction.
Questions? Call Lynott Tours at 1 (800) 221-2474 USA Canada; 01 516 248 2042 ELSEWHERE
Please Email Us For Information
Call 1-800-221-2474 9AM - 5PM Mon-Fri Eastern Time or (516) 248-2042 outside USA/Canada
Although we have provided as much information as possible on our website, we are happy to answer your questions directly on the phone. Sometimes, it is just easier to speak to one of us. We are awaiting your call.