British Heritage and History
11 Day Coach Tour from London to Scotland
GUARANTEED SMALL GROUP - LIMITED TO 15 PERSONS
Explore England and Scotland in more depth. This tour gives you enough time to see the wide variety of landscapes and experience regional culture. You will discover ever changing scenery, palaces, ancient cathedral cities and delightful villages. At every turn there are echoes of history and romance. Train trips, gardens and music are all part of the fun.
Thursday - DEPART HOME
Board your overnight transatlantic flight to London, England.
Friday - ARRIVE LONDON
Afternoon black taxi tour of 'Royal London' Tour, which will take you to the very heartbeat of the Royal Family - see the home of the Queen of England OR the London film locations used in all 6 Harry Potter films.
Saturday - LONDON DAY FREE
You will have a Big Bus pass for a panoramic tour of London, plus an unforgettable London cruise. We suggest visiting the London Eye. One of the newest and most popular attractions in London, this 400 foot tall Ferris wheel along the banks of the Thames River is one of several landmarks that can be seen, including Big Ben, Parliament, Tower Bridge, and Buckingham Palace. (CB)
Sunday - STONEHENGE/BATH/WALES
Today we drive through the English countryside to see the mysterious circle of standing stones at Stonehenge and the medieval village of Lacock, which inspired the images of Potter's Godric's Hollow, Emma, and Pride and Prejudice. Lacockis a delightful medieval wool village, where most of the buildings dating 13th -16th century. We continue to the beautiful Georgian city of Bath to visit the excavations of the Roman baths, and the Pultney Bridge, which is totally covered with houses. Nearby is Tintern Abbey, one of the greatest monastic ruins of Wales. Stay in Cheltenham. (CB)
Monday - COTSWOLDS/STRATFORD/CHESTER
Drive up through the pretty villages of the Cotswolds. Some of the loveliest towns in all England are located in the Cotswolds, with houses of honey-colored stone along winding lanes, and every churchyard has a story to tell. You visit Anne Hathaway's birthplace - a quaint thatched cottage in the market town of Stratford. We end our day in the Roman city of Chester. See the medieval city walls. (B)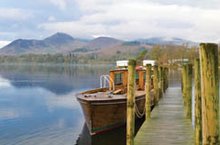 Tuesday - LAKE DISTRICT/EDINBURGH
Drive through the Lake District, a favorite haunt of writers and painters, including Beatrix Potter and Wordsworth, for stunning views of lakes, gentle hills and valleys. Perfectly kept cottages trimmed with fuschia hedges, black and white cows, and the butter-golden gorse shrubs dot the hillsides. Drive to Scotland's capital - Edinburgh. (B)
Wednesday -ALNWICK CASTLE & GARDENS
Your choice of: Take a hop-on-hop-off panoramic sightseeing tour of Edinburgh. Tour highlights include Edinburgh Castle, St. Giles Cathedral, Burns Monument, National Gallery, and the Palace of Holyrood House, OR Enjoy an all-day excursion to the family home of the Duke and Duchess of Northumberland. Set in a stunning Capability Brown landscape, Alnwick Castle (pronounced Annick) is the second largest inhabited castle in England (after Windsor Castle). Their particularly noteworthy gardens have been extensively restored. The centrepiece is the vast Grand Cascade, the largest water feature of its kind in the country. Other features include a walled ornamental garden, serpent garden, bamboo labyrinth, poison garden, and one of the largest wooden tree houses in the world. Return to Edinburgh for a traditional Scottish Music Show. Your internationally acclaimed host will guide you through some of our country's history and legend as you thrill to this unmissable showcase of Scotland's young talent! Pipe Major Andrew Coulter explains the compelling story of the bagpipes and unveils the unique history of his own set handed down to him by his great grandfather. Enjoy Robert Burns' traditional Address to the Haggis when it is ceremonially piped into the room. This traditional fare is then toasted by all with fine Scotch whisky! Enjoy the superb skills of our talented musicians as lively tunes and heartrending songs are deftly delivered. Marvel at the nimble footwork and grace of our classically trained dancers as they perform in the delightful Highland tradition. Why not be taught a few steps yourself? Our evening's entertainment will leave you satisfied and uplifted with a memory to cherish of Bonny Scotland! Lang May Yer Lum Reek!" (CB,D)
Thursday - INVERNESS/LOCH NESS MONSTER
Scotland doesn't get any more dramatic than the West Highlands. Drive alongside Scotland's most famous lake, Loch Ness, where we just may see "Nessie" from the ruined Urquhart Castle. Nearby, inspiring mountain landscape will take you back in time to how Scotland would have looked 500 years ago. Overnight in a bed and breakfast. (B)
Friday - RIDE THE HARRY POTTER TRAIN/ISLE OF SKYE
All aboard! The whistle blows to signal the start of one of the world's unforgettable rail journeys the West Highland Line. Enjoy spectacular views of mountains and loch from the windows as the train heads for Mallaig and a 30 minute sail aboard the ferry "over the sea to Skye". Skye has ruined castles, incredible scenery, fortresses and is home to legendary clans. We stop to photograph the famous Eilean Donan Castle, used in the film "Highlander" and a James Bond movie. (B)
Saturday - GLEN COE/EDINBURGH
Enjoy the eerie mountains of Glencoe, site of the battle between the MacDonald clan and the Campbells. They say you can still hear their cries! Our hotel is an enchanting 13th century Scottish castle hotel set within acres of wooded parkland on the picturesque banks of the River Esk. All of the bedchambers are tastefully furnished in period style. (B)
Sunday - EDINBURGH/HOME
Board your return flight. Return home with great memories of the new friends you've made. (B)
Includes:
*Homeward airport transfers according to our schedule
*Minibus or motorcoach with driver/guide
*First-class accommodations for 9 nights; room with private bath.
*9 hearty breakfasts ( CB & B), 1 dinner with Scottish music (D)
*Baggage handling at hotels.
*All taxes and service charges.
*All sightseeing and entrance fees. Some highlights: London - Black taxi tour, hop on hop off tour, Thames cruise England - Stonehenge, Roman Baths, Anne Hathaways House, Chester Roman walls Wales - Tintern Abbey Edinburgh - hop on hop off tour voucher Borders - Alnwick Castle Highlands - Ride the Hogwarts Express, Eilean Donan Castle, Urquhart Castle Skye - Ferry to the Isle of Skye Scenic Drives - Cotswolds, Lake District, Royal Mile, Princes Street, magnificent Glen Coe, the road to Skye, Braveheart Country, searching for the Loch Ness Monster, Scottish Highlands
Your 3* & 4* B&B's/hotels/castles:
London Jurys Chelsea 2 nights
Cheltenham Queens Hotel 1 night
Chester Westminster Hotel 1 night
Edinburgh Jurys Inn 2 nights
Fort William/Skye/Inverness Bed and breakfast 2 nights
Edinburgh Dalhousie Castle1 night
Not Available
- No individual space available, but available for groups of 6 or more
Guaranteed
=Guaranteed to go, and there are still a few seats available. Book now.
Private Departure
=Departure booked by a group. No individual space available.
| | | | | |
| --- | --- | --- | --- | --- |
| 2013 | Heritage/History | | LAND | |
| Departs to London Thursday | Returns from Edinburgh Sunday | Est. Air/Land EWR* USD | ONLY | |
| 9-May | 19-May |            4,986 | 3981 | Not Available |
| 23-May | 2-Jun |            4,986 | 3981 | Not Available |
| 6-Jun | 16-Jun |            5,064 | 3981 | Not Available |
| 20-Jun | 30-Jun |            5,064 | 3981 | Not Available |
| 4-Jul | 14-Jul |            5,064 | 3981 | Not Available |
| 18-Jul | 28-Jul |            5,064 | 3981 | Not Available |
| 1-Aug | 11-Aug |            5,455 | 4372 | Not Available |
| 15-Aug | 25-Aug |            5,455 | 4372 | Not Available |
| 29-Aug | 8-Sep |            4,978 | 3981 | Not Available |
| 12-Sep | 22-Sep |            4,978 | 3981 | |
Single Room Supplement: $1223. Price per person sharing a twin or triple room. Save $489 per person on coach tours if you 5-11 and traveling with at least one full fare paying passenger.
NEW! We can accept payments in US dollars, euros and pounds sterling. Please ask for our wire transfer details.
Currency Converter
by
OANDA.com, The Currency Site
.
*Airfares are estimates only, based on limited availability and are subject to change. The air inclusive prices above are for general information only and not a reflection of current seat availability. Prices are inclusive of air tax..
Transfers:
Arrival: No arrival transfers are included. We are offering private trasnsfers at a cost of:
| | | | | |
| --- | --- | --- | --- | --- |
| LONDON | # PERSONS | 2 | 4 | 6 |
| London Heathrow transfer rate | | 194 | 246 | 227 |
| | | | | |
| London Gatwick transfer rate | | 259 | 430 | 378 |
Homeward:
We are offering homeward transfers at a set time. Anyone not departing in time for this transfer will need a PRIVATE transfer. Transfer schedule for coach tours: Returns to Edinburgh for flights departing at 9AM. If you have an earlier flight, you must pay for a private transfer. A private transfer for up to 6 persons at a cost of $125 to Edinburgh Airport and $226 to Glasgow Airport.
This program appears only on our website. A printed brochure does not exist for this tour.
Planning a group tour?
Ask us for a quotation for a group
of any size. Great Britain travel the way you want, with the ultimate choice of hotels and sightseeing. Whether you just want a base for excursions, or are planning an extensive itinerary, we can provide exactly what you want.
Please Email Us For Information
Call 1-800-221-2474 9AM - 6PM Mon-Fri Eastern Time or (516) 248-2042 outside USA/Canada
Although we have provided as much information as possible on our website, we are happy to answer your questions directly on the phone. Sometimes, it is just easier to speak to one of us. We are awaiting your call.