Irish Cellphones - FAQ's
Rent A Cell Phone In Ireland
or
GPS
Rent a cell phone from us! Perfect for calling ahead to make your reservations if you are traveling on open accommodation vouchers, or for calling back home. We will send you your cell phone before your departure for Ireland along with the phone number, so that you can leave that number with friends and family to reach you in Ireland.
Available only for Lynott Tours self-drive customers!

Don't assume that your US cellphone works in Ireland
. You usually need a tri-band phone, or one with an international chip.
Instead, rent a phone from us for $29 a week, plus postage. ($49 includes postage)
Pay only local Ireland rates for calls, no extra costs.

Call home at low international rates

Free incoming calls!
Coverage area
No matter where you are in the Republic of Ireland (99% coverage), you'll be able to make and receive calls! Always be in touch.
Package includes
1. Sagem Vodafone Phone with sim card. Easy to use instructions.
2. Charger for use in Ireland.
3. Battery when fully charged lasts up to 4 hours.
4. We send your phone to you TWO DAYS in advance of your departure. You return it to us by FEDEX no later than two days after your return to the USA. We include the return envelope. Just drop into a FEDEX box. We will deliver the handset at least 2 days prior to your departure.
How do you pay for calls?
We do not bill for roaming, connection fees, or minimum usage. Airtime usage is the only charge. When you arrive in Ireland, you just call a local number to purchase phone time, or we will do it for you before you go and charge it to your credit card. 20 euro (about $28) should be plenty for a week. If you need more, just top it up in increments of 10 euro or more. Sorry - no credit for unused phone time.
Airtime costs
• Voicemail FREE
| | | |
| --- | --- | --- |
| In Euro | PEAK | OFF PEAK |
| Ireland | .65 | .30 |
| UK | 1.02 | .57 |
| USA & Canada VAT | 1.02 | .85 |
IRELAND: Peak Mon - Fri: 8am - 6pm
Off-peak All other times
USA & Canada peak rate: 12.00-20.00 Mon-Fri;Fixed lines off-peak rate: 08.00-12.00 & 20.00-22.00 Mon-Fri all day Sat, Sun & Public Holidays
UK (excl. Northern Ireland ) peak rate: 08.00-20.00 Mon-Fri
No Hidden Costs. IT COULD NOT BE EASIER.
You are charged the rental fee only for the days in Ireland, provided that you return it within two days of coming home. If you keep it longer, or damage it, additional charges apply.
Rental Phones available in Great Britain, or Great Britain and Ireland, too. Use one phone throughout your stay - same price.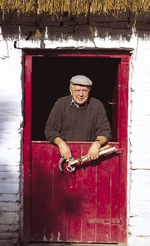 FAQs: What happens if I lose the phone?
You are responsible for the safekeeping of the phone until it is returned. The replacement cost of the phone, without insurance, is $400.00
Please fax signed copies of this Order Form and our Terms and Conditions to: Fax: (516) 248-3496
First name /Last name
Company name
Office Phone
Home phone
Email address
Shipping address (please complete if different from Billing Address above)
Departure date
Return date
Destination Countries: Ireland only /Great Britain only/ Ireland and Britain
Please charge $_______________ to my credit card on file
Signature *:
Print Name __________________________________ Date
TERMS AND CONDITIONS
The terms and conditions hereinafter set forth constitute an agreement ("Agreement") for the rental and use of Lynott Tours cellular telephone equipment ("Equipment") and other travel-related services provided to Renter by or through Lynott Tours. Both parties acknowledge that this Agreement consists of all the terms printed below as Terms & Conditions ("Terms"), as well as those contained in the Rental Agreement.
NATURE OF THIS AGREEMENT This Agreement is solely for the purpose of creating a bailment that allows Renter to use the Equipment as permitted by this Agreement. Renter acknowledges that Equipment is owned by Lynott Tours. No one other than Lynott Tours may transfer the Equipment, or any rights and obligations under this Agreement. Lynott Tours makes no express or implied warranties concerning the operation of Equipment or service, nor assumes responsibility for any loss or delay caused by Equipment or service malfunction.
YOUR RESPONSIBILITIES Renter agrees to accept responsibility for the Equipment as provided by Lynott Tours, which will be delivered to renter's specified address in working condition. Ordinary wear and tear accepted, Renter agrees to return the Equipment to Lynott Tours at the conclusion of the rental period in the same condition as when received. This rental is for a period of time specified in this Agreement. Equipment shall be returned to Lynott Tours by the second business day following the contract end date, plus additional, applicable rental charges. Renter shall be charged a late charge of $8 per day for each day that the Equipment is returned late, plus lost revenue charges. After fifteen (15) days, Customer shall be deemed to have purchased the Equipment, and the SIM card shall be deactivated. Lynott Tours shall have no obligation to accept return of the Equipment after the 15th day. In addition to airtime and rental charges due and owing, Renter shall be assessed accrued late charges, plus the applicable fees otherwise applicable under this Agreement to lost or stolen Equipment. Renter is responsible for loss or damage to Equipment. Replacement cost for standard GSM rental handset package is US $400.00; for other items and accessories, the cost of replacement. The renter agrees to be responsible to Lynott Tours for payment for all rental charges and the costs associated with all calls during the term of the rental including truncated numbers, which consists of unidentifiable numbers. Not all originating networks support calling line identity (CLI). Therefore, some networks inhibit the transfer of this information. If Equipment is lost or stolen, renter is responsible for all service charges until the loss or theft is reported to Lynott Tours. The renter agrees to pay Lynott Tours all costs and expenses, including without limitation, reasonable attorneys' fees, the fees of any collection agency, and court costs incurred by Lynott Tours in exercising any of its rights or remedies hereunder when enforcing any of the terms, conditions or provisions hereof, and consent to jurisdiction of the courts of Nassau County, New York, as determined in the sole discretion of Lynott Tours, and waive any rights to object to such jurisdiction. Renter consents to Lynott Tours' disclosure of account information to, or from, credit reporting agencies, credit bureaus, or private credit reporting associations.
TERMS OF RENTAL Lynott Tours will furnish a container, properly designed for shipment of the Equipment, along with the items necessary to return the Equipment to Lynott Tours at the conclusion of the rental period. Return shipment will be via the same, or similar, delivery service as used to deliver Equipment to Renter. If returned from outside the U.S., the additional shipping or handling expense will be charged to Renter. Renter assumes responsibility for Equipment, if the method of return of Equipment is by another means. Should Renter leave or deposit Equipment at a location not agreed to by Lynott Tours in advance, Renter is liable for all costs to return Equipment to Lynott Tours, plus any additional rental charges for Equipment caused by the delay.
OPERATION OF EQUIPMENT If the Equipment furnished to the renter by Lynott Tours is a digital cellular telephone, it is engineered to operate in specified countries outside the United States, and is specifically NOT designed to be operated or to function in the United States. The renter acknowledges that Lynott Tours digital cellular telephones should not be operated while still in the United States, and agrees that renter will only operate, or attempt to operate, this device while in a country served by the Lynott Tours Service Area.
PAYMENT OF CHARGES As a condition of furnishing Equipment to Renter for the period of time specified in this Agreement under a credit card arrangement, Renter authorizes Lynott Tours to reserve credit or process a deposit with card issuer, or bill any rental, airtime, other applicable charges estimated to be due Lynott Tours prior to Equipment being shipped to renter, or at any time during or following the rental term. Renter represents to Lynott Tours that Renter is an authorized signer on the account of the credit card furnished as part of Agreement. In addition, Renter agrees to be personally responsible for costs, expenses and charges incurred by this rental transaction, regardless of the form of payment. A late payment charge of the lesser of 2% per month, or the maximum rate permitted by law, will be applied to amounts due Lynott Tours, if not paid by the due date. Lynott Tours will make every effort to process charges for calls made under this Agreement in a timely manner, following the receipt, by Lynott Tours, of the detailed information regarding those calls. However, Renter acknowledges and agrees that due to the time required for exchange of billing information among and between the various wireless service providers, that the processing of call charges will take place approximately four to six weeks following the conclusion of the rental. Under some circumstances, additional call charges made during the period of this rental might appear in subsequent billing periods. After rental is completed, any adjustments will be made by subsequent billings.
COMPUTATION OF CHARGES For purposes of computing rental charges for Equipment, Lynott Tours will consider as a whole day, any portion of a day (a day being defined as a twenty-four hour period that begins and ends at midnight) contained in the period of rental specified in Agreement. Rental days begin on the day Renter specifies Equipment is needed for Renter's departure, and are counted until Equipment is shipped back to Lynott Tours. Please order your phone early. Lynott Tours is not responsible for late delivery of the telephone. Confirmed reservations, canceled within 48 hours of shipping date, are subject to a US$30 reservations processing fee. Rentals canceled after Equipment has been shipped are subject to forfeiture of first week's rental charges.
RIGHT TO REFUSE OR TERMINATE SERVICE Lynott Tours may refuse or terminate any rental or other services without notice for: 1) providing inaccurate credit information to Lynott Tours; 2) the appearance of misrepresentation in relation to your service; 3) refusal of credit card issuer to reserve credit, or process charges for payment of any sum due Lynott Tours hereunder; 4) nonpayment of any amount due Lynott Tours on other cellular account(s) for which you are responsible; 5) your insolvency, receivership, voluntary or involuntary bankruptcy; 6) using service in a manner that will adversely affect Lynott Tours, or is otherwise in violation of any U.S. Federal Communications Commission Rules or Regulations, or state, federal or local laws, or any other country's laws, rules or regulations.
LIMITATION OF LIABILITY In no event shall Lynott Tours, or any other wireless or Travel-related service provider offering service through Lynott Tours be responsible for, nor shall renter make any claim against Lynott Tours, or any other entity offering travel-related services through Lynott Tours for any loss or damage sustained by reason of lack of performance or unavailability of the service and equipment for any reason, whether or not Lynott Tours, or any such other entity is at fault. Renter hereby waives its rights to any such claim(s). Renter further agrees that Lynott Tours, iridium, or any other entity providing travel-related services through Lynott Tours shall not be liable for any punitive, exemplary, special, consequential or incidental damages, including, without limitation, loss of revenue, profits, data, or good will that renter may suffer, directly or indirectly, arising out of or in connection with the purchase, sale, use, performance, or failure of such products or services, whether such liability arises under contract, tort, (including negligence), strict product liability or otherwise, even if renter has been advised of the possibility of such damage or if such damage could have been reasonably foreseen. In no event will Lynott Tours' liability to renter arising out of or relating to this agreement exceed the amount of the purchase price paid to Lynott Tours for the product and/or services that gives rise to the claim.
ARBITRATION. Renter agrees that any and all claims or disputes related to or arising out of this agreement, including disputes as to the applicability or enforceability of this arbitration provision, shall be subject to binding arbitration administered by the American arbitration association pursuant to its commercial disputes rules. Such arbitration shall take place in New York.
England - Scotland - Wales Cellphones - FAQ's
Rent A Cell Phone in Britain and Ireland
Rent a cell phone from us! Perfect for calling ahead to make your reservations if you are traveling on open accommodation vouchers, or for calling back home. We will send you your cell phone before your departure for the UK along with the phone number, so that you can leave that number with friends and family to reach you in the UK.

UK Rental Package Includes: Easy to Follow InstructionsRent a phone from us for $29 a week, plus postage. ($49 includes postage)

Pay only local UK rates for calls, no extra costs.

Call home at low international rates

Free incoming calls!

Coverage area
No matter where you are in the England, Scotland and Wales, you'll be able to make and receive calls! Always be in touch.

Package includes
1. Nokia Virgin Phone with sim card. Easy to use instructions.
2. Charger for use in the UK.
3. Battery when fully charged lasts up to 4 hours.
4. We send your phone to you TWO DAYS in advance of your departure. You return it to us by FEDEX no later than two days after your return to the USA. We include the return envelope. Just drop into a FEDEX box. We will deliver the handset at least 2 days prior to your departure.

How do you pay for calls?
We do not bill for roaming, connection fees, or minimum usage. Airtime usage is the only charge. When you arrive in Ireland, you just call a local number to purchase phone time, or we will do it for you before you go and charge it to your credit card. $30 should be plenty for a week. If you need more, just top it up in the UK. It's easy!. Sorry - no credit for unused phone time.
Airtime costs
• Voicemail FREE

No Hidden Costs. IT COULD NOT BE EASIER.
You are charged the rental fee only for the days in the UK, provided that you return it within two days of coming home. If you keep it longer, or damage it, additional charges apply.

FAQs: What happens if I lose the phone?
You are responsible for the safekeeping of the phone until it is returned. The replacement cost of the phone, without insurance, is $400.00


GPS RENTAL shows you the way with detailed maps on a bright widescreen display and clear, voice-prompted directions.
The Garmin Nuvi 200. One of the smallest in-car devices available, the Nuvi 200 comes with maps of the UK and Ireland, full post-code look up, 3d maps, voice instructions, thousands of POI'S, touch-screen, accurate maps, and an intuitive interface.

Our car rental company rents these for $16 a day, but we'll rent you one for just $50 a week, plus postage of $20.

PORTABLE SAT NAV SYSTEM
NEW WIDESCREEN VERSION
MAP GUARANTEE PRE INSTALLED UK & IRELAND FULL STREET LEVEL MAPS
FULL IRELAND COVERAGE
FULL 7 DIGIT UK POSTCODE ENTRY
Points of interest (POIs) database with hotels, restaurants, fuel, ATMs and more

Rent the GPS
Package includes
Vehicle suction cup mount
Vehicle power cable
We send your GPS to you TWO DAYS in advance of your departure. You return it to us by FEDEX no later than two days after your return to the USA. We include the return envelope. Just drop into a FEDEX box. We will deliver the GPS at least 2 days prior to your departure.
Cost: $50 USD per week, plus shipping $20.


Photo Contest

Become a published photographer!

We are always looking for new and interesting pictures to include on our website or in our brochures. If you have something you would lie to enter in our print contest, look for details in your travel pack. We have You Tube contest too, for your videos.

Ask for details. Please Email Us For Information