Ireland Family Travel - Personalized travel arrangements
by your Irish last name
Are you a Murphy, Kelly or Ryan?
IRISH CLAN TOURS
All Irish clans are invited back to Ireland this year. We have family name toursall year -. a great opportunity to retrace your family roots. We know how important it is to see where your family came from, walk the same roads, enjoy a drink in the same local pub, perhaps visit the old farm. See the shop with your family name on it. Enjoy the atmosphere in the local villages. So invite your cousins, and meet some new ones that you never knew you had.
A unique and highly personalized form of tour to Ireland is our family heritage tour.We have Irish family tours for all last name, including yours. However, each of these can be personalized for your particular branch of the family. For example, although the majority of Murphys are from Cork, that surname can be found in many parts of Ireland. You visit the regions and towns to which you can trace your Irish roots.
A trip to Ireland - a trip back home - is surely the best way to feel connected to this ancient land. A way to feel part of something greater than the here and now. A way to truly belong.

Visit the places your grandfather went, the tales he heard, the songs he sang. Sit beside a turf fire, chat with locals, and build memories for years to come.
There's never been a better time to visit Ireland!
So invite your relatives, and meet some new ones in Ireland. We give you access to Special Clan Events of particular interest to you and your Family. Search below or contact us for the dates for your family trip!
Ask us to plan your own tour,
just for your family
.
We can plan Irish clan escorted WEEK OR LONGER tours.
.
Join our ESCORTED family tours:
Contact us for a family clan tour just for your group (minimum size 6 persons) for ANY date.
Irish Family Name Tours
Our Irish clan tours
:
Coach touring with an IRISH driver/guide.
Accommodations at B&B's, hotels, and even a castle
Breakfast each day
Traditional music sessions
Enjoy a medieval banquet at a castle if you are nin the Shannon area
Visits to the Cliffs of Moher, Blarney Castle, Blarney Castle and Folk Park or other sightseeing.
A hop-on hop-off Dublin city tour ticket
If you know where your family is from, but don't see the name above, take a look here:

HOW TO FIND YOUR TOUR BY COUNTY. Look for your name below. For example, Murphys are from everywhere, but look to see what tour your Murphys should be on.
County Antrim Smith, Johnston, Thompson, Wilson, Campbell, Stewart, Robinson, Bell, Brown and Boyd.
County Armagh Most common names: Murphy, Hughes, Wilson, Campbell, O'Hare, Smith, McCann, Donnelly, Watson and Quinn.
County Carlow Most common names: Byrne, Doyle, Farrell, Kavanagh, Kinsella, Lalor, Lawler, McDonald/McDonnell, Murphy, Nolan, Walshe.
County Cavan Most common names: Reilly, Smith, Brady, Lynch, McCabe, Clarke, Farrelly, Maguire, Sheridan and Galligan.
County Clare Most common names: McMahon, McNamara, Moloney, O'Brien, McInerney, Ryan, Kelly, Keane, O'Connor, O'Halloran, Hogan, Lynch, Murphy and Burke
County Cork Most common names: McCarthy, Callaghan, McAuliffe, Fitzgerald, Sullivan, Murphy, Walsh, Connor, Hagerty and Connell.
County Derry (Londonderry) Most common names: Doherty, McLaughlin, Gallagher, McCloskey, Kane, Kelly, Coyle, Moore, Bradley and Campbell.
County Donegal Most common names: Boyle, Haggerty, Gallagher, Dougherty , O'Donnell , McLaughlin, Sweeney , Ward, McGinley
County Down Most common names: Smith, Johnston, Thompson, Wilson, Campbell, Stewart, Robinson, Bell, Brown and Boyd.
County Dublin Most common names: Kelly.
County Fermanagh Most common names: Murphy, Hughes, Wilson, Devlin, McManus, Armstrong, Donnelly, O'Neill, Quinn, Cassidy and Maguire.
County Galway Burke, Lynch, O'Flaherty, Blake, Bodkin, Browne, D'Arcy, Deane, Font, Frain, Joyce, Kirwan, Lynch, Martyn, Morris and Skerrett.
County Kerry Most common names: O'Sullivan, O'Connor, Shea, Murphy, McCarthy, Moriarty, Fitzgerald, O'Connell, Donoghue, Griffin.
County Kildare Kelly, Byrne, Dunne, Nolan, Murphy, Lawler, Farrell, Doyle, Walsh, Dowling, Connor, Neill, Brennan, Moore and Kavanagh
County Kilkenny Most common names: Murphy, Walsh, Brennan, Maher, Butler, Phelan (& O'Phelan), Grace, Fitzpatrick, Comerford and Ryan.
County Laois Most common names: Kelly, Dunne, Molloy, Carroll, Egan, Dempsey, O'Connor, Daly, Fitzpatrick and Lalor.
County Leitrim Most common names: Reynolds, McGowan, Rooney, Flynn, Kelly, Gallagher, Moran, Dolan, McLoughlin and McMorrow.
County Limerick Most common names: Ryan, Fitzgerald, O'Brien, O'Connor, Hayes, Walsh, Sullivan, Bourke, Madigan, Collopy, Donovan and Wolfe.
County Longford Most common names: O'Farrell or Farrell is still the most dominant surname in the County. Other common surnames are, Quinn, Kenny, Kiernan, Mulvey, Smith, Leavy, Kelly, Glennon, Keenan, Casey and Murphy.
County Louth Belton, Corrigan, Dowdall, Duffy, Hamill, McArdle, O'Hagan, O'Hare and Quigley.
County Mayo Most common names: The more common surnames in the North Mayo include Gallagher, Durkan, McHale, Barrett, McNulty, McNicholas, Brennan, Henry, Doyle, Harkin, Dogherty, Foy, Kelly, Loftus, Gaughan and Lavelle.
In South Mayo common surnames includes Walsh, Burke, Gibbons, Prendergast, Joyce, Murray, Gallagher, Lydon, Heneghan, Murphy, O'Malley, Kelly, Moran (family gathering June 28-30), Duffy, O'Connor, Waldron, Farragher.
County Meath Most common names: Reilly, Smith, Lynch, Brady, Farrell, Farrelly, Kelly, Brien, Daly and Maguire.
County Monaghan Most common names: O'Boylan / Boyland, As to be expected, there is a great variety of family names in Monaghan, mainly of native Ulster origin, although in the Ulster Plantation many Scots and English settlers arrived in the county. Prominent Monaghan names, in no particular numerical order, are McMahon, McKenna, Hughes, McCabe, Smith, Kelly, Maguire, Murray, Woods, O'Connolly, Duffy, Leslie, Hamiliton and Shirley.
County Offaly Most common names: Kelly, Dunne, Molloy, Carroll, Egan, Dempsey, O'Connor, Daly, Fitzpatrick and Lalor.
County Roscommon Most common names: Hanley, Beirne, Kelly, Brennan, Connor, Flynn, Cox, McDermott, Brady and Farrell
County Sligo Most common names: Gallagher, Brennan, MacGowan, Kelly, Gilmartin, Healy, Walsh, Hart, Feeney and MacDonagh.
County Tipperary Most common names: The chief surnames of North Tipperary include Ryan, O'Brien, Kennedy, O'Meara, Maher/Meagher, Burke, Gleeson, Carroll, Hogan and Kelly.
The chief surnames found in South Tipperary include Ryan, Dwyer, Maher, Brien, Hayes, Quirke, Treacy, Meara, Macken, Maloney, Lonergan.
County Tyrone Most common names: Murphy, Hughes, Wilson, Devlin, McManus, Armstrong, Donnelly, O'Neill, Quinn, Cassidy and Maguire, Boyle.
County Waterford Most common names: Power, Walsh, O'Brien, Murphy, Ryan, McGrath, Foley, Flynn, Morrissey, Kelly, Phelan and Sullivan.
County Westmeath Most common names: (Mc)Geoghegan, O'Growney, Brennan, O'Coffey, O'Mulleady, O'Malone, O'Daly, McAuley, McCormack.
County Wexford Most common names: Murphy, Sinnott, Doyle, Furlong, Walsh, Rossiter, Scallan, Brien, Brown, Stafford, Devereux and Kavanagh
Optional: Trace your family roots in advance of your trip to Ireland - from $100
ASK FOR DETAILS:
Please Email Us For Information
Why use Lynott Tours for your family vacation?
We know who you are!
If the above do not suit your family, ask us for self drive itineraries and personalized small group tours all year long.
Please Email Us For Information
What our clients say
| | |
| --- | --- |
| | Thank you so much for setting up our Reidy family trip to Ireland. We had a wonderful time and were able to see a great deal in a short period of time, thanks to our guide, Martin Hogan. He was wonderful and became part of the family. We were able to find the house my father was born in as well as a cousin we never knew existed in Kilgarvin. We will be back again. Thanks much for everything. The Reidy Family. Dick Reidy |
SOME CHOICES
The prefix Mc, Mac or O' can be dropped, .i.e., O'Fallon and Fallon are probably the same family. There is no difference between Mac, and Mc - they are both Scottish and Irish. Many names are variations on the Irish or Gaelic names. Look for your name WITHOUT the Mc, Mac or O' prefix, or a name that sounds similar to yours. There are many spelling variations. The Gaelic prefix 'mac' indicates 'son of' and 'O', 'male descendant of',
For example:

BREEN - Galway
BOYD (Laois, Antrim)
COUGHLIN Brave in Difficulties Offaly
COSTELLO Galway, Mayo, Clare
CONDON Cork, close to the adjoining counties of Limerick and Tipperary, called the barony of Condons
CUMMINGS
DUFFY Tyrone
FARRELL,
FITZPATRICK Counties Kilkenny and Laois
GALLAGHER
GILMARTIN Originally from France, followers of St Martin. Then Galway. Granted lands by Strongbow. Original Tribes of Galway
HICKEY, HORAN
MANN,
LONERGAN - Tipperary
MALONE A devotee of St John. From Connacht (northwest Ireland)
MORAN Galway, and at Ardnaree, County Mayo
MCGRATH,
MCNEELY
LAWLOR,
MCGINN
MULDOON Tyrone
O'KEEFE,
O'MALLEY,
QUINN Counties Antrim, Longford and Clare
ROONEY
MCGINNIS, MCGUINESS,
MCGOWAN
MCLOUGHLIN, MCLAUGHLIN
MCNALLY
MONAGHAN,

REARDON - County Tipperary, but migrating to County Cork

REGAN There were three main septs of this family in Ireland, Meath and Dublin, Counties Clare, Limerick and Tipperary, South West Cork

TOOHEY O' Towie, O' Tuohy, O' Towey, Tuohy, Twohig, Twohy, Twoohy, Toohy, Tuhy, Tooey, Toohey, Towey, Towhey, Touey,=Clare
FALLEN
SHERIDAN
WALDRON
WARD

AHERN Co Clare, Cork Waterford

BARRY Cork The most common origin of the Barry surname comes from De Barri, a French Norman name which was derived from a small village in Normandy known as La Barre. The first bearer of the surname to arrive in Ireland was Robert de Barri, one of the original band of Norman Knights who landed at Bannow in Co. Wexford in May 1169. In the 1180's, more Barry's starting leaving the Welsh coasts and began settling in Cork, Irleand. It was here in Cork that the Barry's thrived, becoming one of that county's major lineages with three major branches and many minor ones. These include derivatives such as: De Barry, Barrymore, Barryroes, O'Barry and of course, Barry. However, not all Irish Barrys descended from De Barri. Some modern Barrys were originally called Ó'Beargha `descendants of Beargh'. Beargh was a nick-name meaning `robber'.

BOYLE Ruddy. In the Middle Ages the O'Boyles were powerful and respected chieftains in County Donegal

BRYNE can be found flying around all over Counties Wicklow and Dublin. Byrne, originally O'Byrne, comes from the Gaelic O'Broin meaning "descended from Bran," an 11th century King of Leinster. The O'Byrnes were chieftains of what is now County Kildare until the Norman invasion when they were driven from their lands and migrated (ha!) into the mountains of County Wicklow. meaning "raven". The Byrne or O'Byrne (Ó Broin) family originally came from Kildare claiming descent from Bran, the king of Leinster, who died in 1052.


BOURKE

BOYLAN

BRADLEY Derry

BRADY

BRENNAN



CALLAGHAN 'bright-headed'. Mallow, Co. Cork

CARROLL 'warlike champion' or 'valorous in battle'. The O'Cearbhaills were prominent in the Province of Leinster. There were six separate O'Carroll clans in Ireland, in Counties Kerry, Offaly, Monaghan, Tipperary, Leitrim and Louth. Carrolls of Northern origin descend from the MacCearbhaill clan who were located in Ulster particularly near the town of Derry. There is also a MacCarroll family (anglized to MacCarvill) from the province of Ulster. Your tour

CASEY Watchful. Casey genealogy begins County Cork. There are at least six septs (family branches) of the Caseys in Ireland today, mostly in Counties Cork and Dublin. Casey family history includes many notable people including William Casey, director of the Central Intelligence Agency from 1981 to 1987; and father and son US Army Generals George William Casey, Sr., and George William Casey, Jr. O'Casey were also the chiels of Pubblebrien, Co. Limerick


CONNELL Three distinct O'Connell clans arose separately as surnames in Connacht, Ulster and Munster, but the most prominent and numerous of these were the O'Connells of Munster. They were mainly located in County Kerry where they were originally lords of the barony of Magunihy from very ancient times. Today a large majority of the O'Connells in Ireland are still to be found in Kerry, as well as in adjoining County Cork, but descendants with this name can be found in every county in Ireland. Limerick. 'strong as a wolf'.

CONNOLLY Monaghan most prominent. 'as fierce as a hound / wolf'. The Irish name Connolly derives from a number of different native Irish septs. The O'Conghailes were an ancient Connacht sept where the English version is now often spelt 'Connelly', they were also found in County Monaghan. The O'Congheallaigh sept was located in the Province of Munster, mainly in West Cork. The Ulster Connollys derive from both the O'Conghalaigh of Fermanagh and the Monaghan Connollys.



CUNNINGHAM an extended family with its roots in the north west of Ireland - villages of NewtownCunningham and ManorCunningham


COLLINSyoung dog. In Ireland, Collins may be regarded as a genuinely indigenous Irish name; ranked number 30 in Ireland it is one the most numerous surnames, with an estimated Collins population of 14,000 persons, the majority of which come from Counties Cork and Limerick.

CONNORHero, champion or patron of warriors. Not everybody with the surname is descended from the same source or the same clan. There are at least three main groups each descended from a different Conor or ConnorThe majority of all the many O'Connor names in Ireland are largely in the Kerry, Limerick and Cork areas.

CANNONTirconnell. Wolf cub. a territory in Ireland, now more commonly referred to as County Donegal, although the Kingdom and later Principality of Tyrconnell was broader than that, including parts of Sligo, Leitrim (present day Republic of Ireland), Tyrone, Fermanagh and a southern part of Derry. Your tour is in September/

CUSACKMeath

DALY The surname Daly is among the thirty most frequently found in Ireland. The Dalys claim descent from an Irish hero from Celtic mythology, Niall of the Nine Hostages, who was High King of Tara 380 to 405AD. The main O'Daly sept belonged to County Westmeath but they later located branches in Galway, Clare and Cork where the majority of descendants can still be found.

DOHERTY is an Irish clan based in County Donegal. Today there are Doherty families in many parts of Ireland, with primary concentration in their homeland of the Inishowen Peninsula, Co. Donegal and the vicinity of Derry. The names Doherty and Dougherty in Ireland are derived from the Irish word "dochartach" meaning obstructive or hurtful.

DONOVAN Limerick. Crom Castle
DOWNEY fort. Cork and Down

DOYLE dark and tall, Leinster Dublin

DRISCOLL Baltimore and islands of Cape Clear, Sherkin and Heir have been the seat of the O' Driscoll clan for 1,000 years or more and there are plenty of O' Driscolls living in the area today to prove it

DWYER Tipperary, Limerick, Kilkenny, Cork. Their original homeland was in the mountains of west Tipperary, at Kilnamanagh between the modern town of Thurles and the Limerick border, where they held power and resisted the encroachments of the English down to modern times.


EARLY Kilkenny, Tipperary

EGAN also Keegan. Tipperary



FLANAGAN The Irish names Flanagan and O'Flanagan are derived from the native Gaelic O'Flannagain Septs who were located in Counties Roscommon, Fermanagh and Offaly. The O'Flannagain chief was one of the 'royal lords' to the King of Connaught. The name is taken from a Gaelic word meaning 'red' or 'ruddy and is among the one hundred most frequently found in the country.

HAGGERTY "unjust". Originally from Ulster, Counties Donegal and Derry. Also County Cork.

Hughes Most bearers of this name are from the Ulster sept O hAodha (descendants of Hugh), who were mainly concentrated in parts of north Tyrone and Donegal. In Monaghan, a closely related variant, O hAoidh, became Hoey. Hughes was also a common surname in England and Wales from the Middle Ages, and the name was borne by many seventeenth century settlers in Ireland.

KENNEDYhelmet headed. Tipperary.

LYNCH - Galway The term lynching was coined when Judge Lynch ordered the hanging of his own son.


LYONS Mayo

MacMahon, one of the top five names in Monaghan, derives from mathghamban, a bear. They are descended from Mahon O'Brien, grandson of Brian Boru.

MILLIKAN Means "bald". The name has been traced from its original source, and from its Norman-French adoption, directly into England and southern counties of Scotland and Ireland - Donegal especially. The name in Scotland is spelled "Milliken", in Ireland, "Milligan", and in England, "Millikin" and "Millican". In the north of Scotland it is sometimes found as "Mulliken". In United States the surname in various branches of the family has been spelled Mulliken, Milliken, Millikin, Millican and Millikan.



NUGENT fine, stately fine Westmeath







MURPHY - the sea battlers Murphys – you win the prize for most common and widespread name in Ireland, especially in County Cork. This surname, translates to Gaelic as McMurchadh (son of Murchadh) and O'Murchadh (descendent of Murchadh), a derivation of the first name of Murchadh or Murragh. O'Murchadh families lived in Wexford, Roscommon and Cork, in which county it is now most common, with the McMurchadhs of the Sligo and Tyrone area responsible for most of the Murphys in Ulster. The name was first anglicized to McMurphy and then to Murphy in the early 19th century.


KELLY, (Irish Gaelic: O Ceallaigh) O'KELLY (the bright-headed ones) is a genuine 'O' surname which belongs to the oldest class of native Irish surnames. It means 'Descendent of Ceallach' (war or contention), and is the name of several distinct and illustrious families in various parts of Ireland. The Kellys are all over Ireland; the name originates from at around 10 different and unrelated ancient clans or septs. These include O'Kelly septs from Meath, Derry, Antrim, Laois, Sligo, Wicklow, Kilkenny, Tipperary, Galway and Roscommon. O'KELLY was chief of the great Uí Maine clan and ruled over an extensive territory in the counties of Galway and Roscommon. Whilst the name "O'Kelly" dominated from the Viking Era in the 9th century to the middle of the 16th century, the "O" was dropped during the sixteenth and seventeenth centuries and the name became Kelly. This arose from the policy of Queen Elizabeth I of England to break the influence of the gaelic chieftains by rewarding them with land and noble status in return for abandoning their Irish customs. Typical of this was the granting of land and rights to Colla O'Kelly, Seventh lord of Screen in 1601AD in exchange for his dropping the "O" from the surname.

MCNULTY It is derived from the pre 10th century aelic Mac an Ultaigh meaning the "son of the Ulsterman", a regional locational name. They held great power as the royal family of Ulidia in County Down and South Antrim until 1177, where they were defeated by the Norman army and greatly reduced in power. After this defeat, the majority gathered themselves together and migrated to Donegal where they became hereditary physicians to the O'Donnells.


O'SULLIVAN OR SULLIVAN are one of the most populous of the Munster families. In Irish, O'Sullivan is O'Sileabhin, and there is no doubt that origin of the name comes from the word sil (eye), though whether it is to be taken as "one-eyed" or "hawkeyed" is in dispute among scholars. Originally lords of the territory around Cahir, County Tipperary, in the 12th century, they migrated to what is now West Cork and South Kerry, where the name is still very prominent.

WALSH Walsh – the Welshmen The meaning of this "Welsh" name is pretty straightforward. The name Walsh is one of the most common of the Norman associated names found in Ireland. It seems to have been the name used by the many different groups of Welsh people who arrived in Ireland with the Normans during the 12th century. It is found in every county and is particularly strong in Mayo, where it has first place, and also in Galway, Cork, Wexford, Waterford and Kilkenny.


O'BRIEN – the noblemen O'Briens are pretty lucky – they are descended from one of the greatest and most famous Irish kings. The name O'Brien, also spelled O'Bryan or O'Brian, translates to Ó Briain in Gaelic, which means "of Brian." The name indicates descendance from Brian Boru, the celebrated High King of Ireland. This gives O'Briens leave to call themselves "high" and "noble." Most O'Briens can be found in Counties Clare, Limerick, Tipperary and Waterford.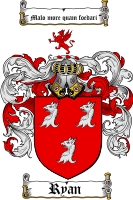 RYAN Name meaning: "Descendant of Rían (little red one/little king disputed)" Counties associated with the name: Carlow, Tipperary, Limerick

O'CONNOR The O'Connor name, with its varied spellings, doesn't spring from a common source. The name arose in five areas of Ireland: Connacht, Kerry, Derry, Offaly and Clare and split into six distinct septs. The most prominent sept is that of the Connacht O'Connors who gave us the last two High-Kings of Ireland: Turlough O'Connor (1088-1156) and Roderick O'Connor (1116-1198). They trace their heritage and name from the Irish "Ua Conchobhair," meaning from Conchobhar, a king of Connacht.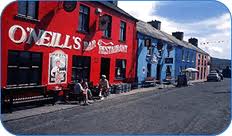 O'NEILL family traces its history back to 360 A.D. to the legendary warrior king of Ireland, Niall of the Nine Hostages, who is said to have been responsible for bringing St. Patrick to Ireland. Niall is also said to have been incredibly fertile – he has 3 million descendents worldwide. "O'Neill" is derived from two separate Gaelic words, "Ua Niall," which means grandson of Niall, and "Neill" meaning "champion." Ireland's O'Neills were known by the nickname "Creagh," which comes from the Gaelic word "craobh" meaning branch, because they were known to camouflage themselves to resemble the forest when fighting the Norsemen. Crafty fellows, those O'Neills

O'REILLY The O'Reillys were the most powerful sept of the old Gaelic kingdom of Breffny (Cavan and the surrounding counties), and the family is still prominent in the area.




POWERS the poor man. Waterford

SHEA Hawk. Co Kerry

STACK The Stacks, who originally came from England, have been in Co. Kerry since the beginning of the fourteenth century and by the sixteenth had become thoroughly Irish, being among the foremost Kerry opponents of the English in the Elizabethan wars. They were allied by marriage to several of the great families of Desmond John Stack was Bishop of Ardfert from 1558 to 1588 and Philip Stack from 1588 to 1595. General Edward Stack (c. 1750-1833) was a notable officer in the Irish Brigade in France, and also in Pitt's Irish Brigade. Their association with Clanmaurice is perpetuated in the Stack Mountains between Tralee and Abbeyfeale and a district in the vicinity was long known as Pobble Stack or Stack's Country.

SHEEHAN peaceful or "Siodach", gentle and courteous. Originally belonging to County Clare, this clan moved southwards to occupy Counties Cork, Kerry and Limerick, and it is in these counties that the name is most numerous today

Lynott Tours Family Tours - Making travel easier since 1970
Call 1-800-221-2474 9AM - 5PM Mon-Fri Eastern Time Please Email Us For Information



Call 1-800-221-2474 9AM - 5PM Mon-Fri Eastern Time or (516) 248-2042 outside USA/Canada
Although we have provided as much information as possible on our website, we are happy to answer your questions directly on the phone. Sometimes, it is just easier to speak to one of us. We are awaiting your call.