Irish Odyssey 12 Day - Dublin to Dublin Group Tour
Click here for map
One of our most requested Ireland trips, perfect for those travelling to Ireland for the first time. See ever-changing landscapes, splendid seascapes, purple moorlands, monastic ruins, enchanting lakes, towering fortresses, and patchwork of fields spread in every shade of green.
A few departures on this tour have a senior discount available. Please ask for details. Cannot be combined with other discounts or offers
.
Ireland Tour

Your Day-by-Day Itinerary
Day 1: Dublin City Tour & Kilmainham Gaol
Start your tour at Dublin Airport with a group transfer to your hotel between 7:00 am and 12:00 noon. If your flight arrives later, transfer to the hotel at your own expense. At 2:00 pm join a local guide on a tour of Dublin's highlights to view Trinity College, General Post Office, St. Patrick's Cathedral and the Famine Memorial. Visit Kilmainham Gaol where many of Ireland's leaders, including Robert Emmett, Eamon DeValera and Padraig Pearse, were imprisoned during the 19th and early 20th centuries. In the evening meet your tour director and travel companions over a welcome drink.
Day 2: Abbey Tavern
This morning drive through the delightful scenery of the Wicklow Mountains to Blessington for a guided tour of stately Russborough House, a Palladian mansion filled with interesting treasures as well as noted works of art and early photographic collections. The afternoon is free so that you may use your independent open-top bus tour voucher with a visit to Guinness or Jameson. Drive to the Abbey Tavern in Howth for a traditional dinner followed by a great show with Irish music and intricate step dancing. (B, D)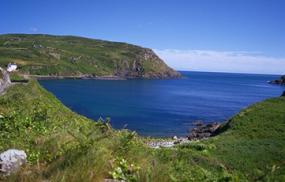 Day 3: Dunbrody Famine Ship & Waterford Crystal
Drive to New Ross to visit the Dunbrody Famine Ship. This is a replica of a sailing vessel built in 1845 to transport emigrants away from Ireland to a better life. The visit will give you an insight as to what life on board ship was like as well as filling you in on the history of the 1840's Famine. In nearby Waterford tour the House of Waterford Crystal for a demonstration of glass blowing and cutting and see some magnificent trophies on display. Continue along the south coast for your next overnight stay in Cork. (B, D)
Day 4: Blarney Castle & Killarney
A few miles outside Cork, visit Blarney Castle and climb to the battlements to kiss the famous "Stone of Eloquence." Also visit the Blarney Woollen Mills where you can find quality Irish-made goods of all types, conveniently displayed under one roof. Drive into the mountainous scenery of County Kerry to the attractive town of Kenmare. Stop at Moll's Gap for great views and continue along part of the Ring of Kerry route into Killarney. Check in to your hotel and relax before dinner. (B, D)

Day 5: Dingle Peninsula Tour
Explore the scenic Dingle Peninsula, made famous by two movies - "Ryan's Daughter" and "Far & Away." Admire views of heathery mountains, sandy beaches and rocky headlands. Pause in Dingle before continuing to the Blasket Centre in Dunquin to learn about the offshore Blasket Islands, inhabited until 1953 by hardy farming and fishing families. Return to Killarney and have time to relax or shop. After dinner you may like to visit local pubs featuring live music. (B, D)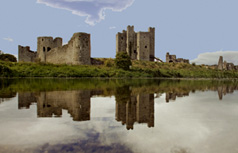 Day 6: Cliffs of Moher
Travel north to Adare and enjoy a stroll along the main street to take photographs of the charming thatched cottages with brightly-colored flowers in window boxes and gardens. Drive through the outskirts of Limerick and past Bunratty to the coast of County Clare. Here view the famous Cliffs of Moher, an impressive wall of rock that rises 700 feet above the Atlantic Ocean. Continue to Galway for a panoramic tour and check in to your hotel, which overlooks Galway Bay. (B, D)
Day 7: "Quiet Man" Walking Tour & Connemara
Drive to Cong where "The Quiet Man" movie was made in 1952. A guided walk will show you places featured in the production. Travel through Connemara for sweeping views of misty mountains and shimmering lakes. Stop briefly at Kylemore Abbey Visitor Center before continuing to Clifden, a delightful market town set between the Twelve Pins Mountains and sandy bays. Return to your hotel to relax before dining in your hotel once again. (B, D)
Day 8: Country Life Museum & Belleek
Travel north to Castlebar to the Museum of Country Life which displays articles used in everyday life during the 19th and early 20th centuries. Continue to County Sligo and pause in Drumcliffe Churchyard at the grave of the writer, W. B. Yeats. Follow the shoreline of Donegal Bay to visit the Belleek Pottery Factory where craftspeople shape and decorate clay, creating the world-famous fine china. Continue your drive through the majestic Barnesmore Gap to Derry. Enjoy free time to relax or take a walk before dinner. (B, D)
Day 9: Derry Walk & Giant's Causeway
Join a local guide for a walking tour around the ancient city of Derry to see the Guildhall, St. Columb's Cathedral, the Diamond and the 16th century walls. Visit the award-winning Tower Museum. Drive along the north coast, stopping for photos at the ruined Dunluce Castle and explore the Giant's Causeway, huge hexagonal basalt columns formed over 60 million years ago. The oversized rocks have given rise to many legends. Return to Derry for leisure time. (B, D)
Day 10: Belfast Tour & Cabra Castle
Stay Drive direct to Belfast where a guide will show you the highlights of the city with its Victorian buildings, the docks where the Titanic was built and areas around the Malone Road and Falls where the struggles of the latter part of the 20th century took place. After a little time on your own travel to Kingscourt and your castle hotel, built in 1760. Arrive mid-afternoon so that you can enjoy the atmosphere and facilities of this lovely property and maybe play the 9-hole golf course. After dinner in the Court Restaurant, youthful dancers display intricate Irish step-dancing. (B, D)
Day 11: Dublin Open-Top Bus Tour
After a leisurely breakfast, drive to Dublin and check in around midday to a different Dublin hotel. The afternoon is free and you may use your vouchers for an open-top bus tour and Guinness or Jameson visit if you did not use them at the start of your trip. Dine independently at one of Dublin's great restaurants or create your own pub crawl through the nearby Temple Bar area.(B)
Day 12: Tour Ends Dublin Airport
Take a group transfer to Dublin Airport to arrive at 6:00 am, 9:00 am or 12:00 noon to check in for your flight. (B)
One of our most requested Ireland trips includes:
12 days/10 nights/19 meals
GROUP AIRPORT TRANSFERS
When we book your flights together with a coach tour, we include complimentary group transfers on the starting and ending date of tours at times specified on each itinerary-a $30 per person fee applies to land only bookings.
• Sightseeing by luxury coach throughout
• Services of a professional Irish driver/guide
• 11 nights in hotels listed above
• Full breakfast daily except on day 1 (B)
• 10 dinners (D) including - Abbey Tavern traditional Irish dinner/show - Wm Cairnes Gastropub farewell dinner with music - 8 table d'hote dinners
• Welcome get-together drink
• Tours of Dublin and Belfast with local guides "The Quiet Man" walking tour of Cong Walking tour of Derry with a local guide Dublin open-top bus tour with a visit and drink at Guinness Storehouse or Old Jameson Distillery
Visits and admissions to Kilmainham Gaol, Russborough House, Dunbrody Famine Ship, House of Waterford Crystal, Blarney Castle, Blarney Woollen Mills, Blasket Centre, Cliffs of Moher, Kylemore Abbey Visitor Center, Museum of Country Life, W. B. Yeats' Grave, Belleek Pottery Factory, Tower Museum, Giant's Causeway, Titanic Belfast, Boyne Valley Visitor Centre & Newgrange or Knowth Tomb
• Deluxe flight bag, ticket wallet, luggage tags & strap
• All local taxes, hotel service charges & porterage for one suitcase per person
Your Hotels Stay at the following (or similar): •Alexander Hotel 4 star hotel Dublin (2 nights) •The River Lee Hotel 4 star hotel Cork (1 night) •Killarney Plaza Hotel 4 star hotel Killarney (2 nights) •Galway Bay Hotel 4 star hotel Galway (2 nights) or Knockranny House Hotel 4 star hotel Westport for July 25 departure •City Hotel, Derry 4 star hotel Derry (2 nights) •Cabra Castle Hotel 4 star hotel Cavan (1 night) •The D Hotel 4 star hotel Drogheda (1 night)
Did you know? A full seven percent of the entire Irish barley crop goes to the production of Guinness beer.
12 days Dublin to Dublin
Start
End
Special
DUBLIN
DUBLIN
Departure
Fri Oct 02 2015
Tue Oct 13, 2015
US$2248
Guaranteed
Fri Oct 09 2015
Tue Oct 20, 2015
US$2248
Guaranteed
Fri Oct 16, 2015
Tue Oct 27, 2015
US$2248
55 & Smiling Guaranteed
Fri Oct 23, 2015
Tue Nov 03 2015
US$2248
55 & Smiling Guaranteed
Fri Oct 30, 2015
Tue Nov 10, 2015
US$1928
Guaranteed

Single room supplement: $591
12 days Dublin to Dublin
Start
End
Special
DUBLIN
DUBLIN
Departure
Fri Mar 11, 2016
Tue Mar 22, 2016
US$1898
Guaranteed
Fri Mar 18, 2016
Tue Mar 29, 2016
US$1898
Fri Mar 25, 2016
Tue Apr 05 2016
US$1996
Fri Apr 01 2016
Tue Apr 12, 2016
US$2084
Guaranteed
Fri Apr 08 2016
Tue Apr 19, 2016
US$2084
Fri Apr 22, 2016
Tue May 03 2016
US$2272
Fri Apr 29, 2016
Tue May 10, 2016
US$2460
Guaranteed
Fri May 06 2016
Tue May 17, 2016
US$2460
Fri May 13, 2016
Tue May 24, 2016
US$2460
Fri May 20, 2016
Tue May 31, 2016
US$2460
Guaranteed
Fri May 27, 2016
Tue Jun 07 2016
US$2617
Fri Jun 03 2016
Tue Jun 14, 2016
US$2617
55 & Smiling Guaranteed
Fri Jun 10, 2016
Tue Jun 21, 2016
US$2617
Fri Jun 17, 2016
Tue Jun 28, 2016
US$2617
Guaranteed
Fri Jul 01 2016
Tue Jul 12, 2016
US$2617
Fri Jul 08 2016
Tue Jul 19, 2016
US$2617
Guaranteed
Fri Jul 15, 2016
Tue Jul 26, 2016
US$2617
Fri Jul 29, 2016
Tue Aug 09 2016
US$2617
Guaranteed
Fri Aug 12, 2016
Tue Aug 23, 2016
US$2617
Fri Aug 19, 2016
Tue Aug 30, 2016
US$2617
Guaranteed
Fri Aug 26, 2016
Tue Sep 06 2016
US$2617
Fri Sep 09 2016
Tue Sep 20, 2016
US$2617
Fri Sep 16, 2016
Tue Sep 27, 2016
US$2617
55 & Smiling Guaranteed
Fri Sep 30, 2016
Tue Oct 11, 2016
US$2423
Guaranteed
Fri Oct 07 2016
Tue Oct 18, 2016
US$2248
Fri Oct 21, 2016
Tue Nov 01 2016
US$2248
Guaranteed
Fri Nov 04 2016
Tue Nov 15, 2016
US$1928
55 & Smiling Guaranteed
Fri Nov 11, 2016
Tue Nov 22, 2016
US$1898

Single room supplement: $591
Price per person sharing a twin or triple room. ONLY ONE TRIPLE ROOM IS AVAILABLE PER DEPARTURE - BOOK EARLY. Save 10% per person on coach land tour prices if you are 8 & under 18 and traveling with at least one full fare paying passenger. Airfare is available from many cities. Just ask. NEW! We can accept payments in US dollars, euros and pounds sterling. Please ask for our wire transfer details. Currency Converter by OANDA.com, The Currency Site.

Guaranteed Price This Tour & Continue Cancellation Penalties: Airfare up to 100%; Land: : Penalties per person apply: 70 days or longer: Forfeiture of deposit 69 - 46 days: 35% per person 45 - 8 days: 45% per person 7 - 1 days: 60% per person, On day of departure: 100% per person Travel Insurance from $60

Please Email Us For Information

Call 1-800-221-2474 9AM - 6PM Mon-Fri Eastern Time




Call 1-800-221-2474 9AM - 6PM Mon-Fri Eastern Time or (516) 248-2042 outside USA/Canada
Although we have provided as much information as possible on our website, we are happy to answer your questions directly on the phone. Sometimes, it is just easier to speak to one of us. We are awaiting your call.