Escorted Tours Staying in Castles in Scotland
SCOTTISH CASTLE EXPERIENCE
Scottish Castle tours from Edinburgh
There have been well over two thousand castles in Scotland, although many are known only through historical records. We explore a few of these unique treasures, and stay in two of our favorite Scottish castles.
Day 1 EDINBURGH/ MONTROSE/ABERDEEN
You depart from the World Heritage City of Edinburgh and travel north, crossing the Forth Road Bridge into the ancient Kingdom of Fife. Your first visit of the day will be Falkland Palace, where during a private, guided tour you will be able to discover more of this pretty Royal Palace. Built between 1502 and 1541, it is set in the heart of the unique medieval village of Falkland and has been residence and hunting lodge of eight Stuart monarchs. Highlight of the visit will be to see the Real Tennis court, built in 1539! You continue to St Andrews and during a town walk your guide will tell you more about its past and more recent history. Its connection to the patron Saint of Scotland, birthplace of Golf, ancient University town and matchmaker to a royal couple – there is a lot to see!
Your afternoon visit will be at the House of Dun near Montrose. This beautiful Georgian house, overlooking Montrose Basin, was built in 1730. It features superb plasterwork and now houses the Hutchison collection of Scottish colourists and the Stirling collection of furniture, ranging from the 18th century to the 1960s. On route to Aberdeen you will make a photo stop at Dunnottar Castle, a dramatic and evocative ruined cliff top fortress in a truly stunning setting. Dunnottar is where they filmed Hamlet's Macbeth and provided inspiration for Disney Pixar's movie "Brave". From here you continue to Thainstone House Hotel, a lovely 19th century mansion house, where you will stay for 2 nights.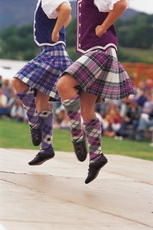 Day 2 ABERDEEN AREA
Today will be spent in the Royal Deeside area, famous for its many castles.

Your first visit will be Castle Fraser, one of the grandest of the Scottish baronial tower houses. Begun in 1575, the present castle contains an evocative Great Hall, fine furniture and many Fraser family portraits. You can round the visit off with a walk through the beautiful 18th century walled garden. The tour continues to Banchory where you might be able to see salmon jumping at the Falls of Feugh. Maybe take short nature walk in Glen Tanar or the Burn o' Vat.
Lunch stop is at Ballater before continuing with your afternoon programme. Crathes Castle provides the highlight for the afternoon. Turrets, gargoyles and the ancient Horn of Leys given in 1323 by Robert the Bruce are just a few of the features of this historic castle. You will be free to explore the house and the stunning gardens at your own pace. The gardens stay green irrespective of the time of year, as with the ancient yew hedges that frame the upper parts of the gardens, particularly the fountain and rose gardens. Wandering through the outstanding, world-renowned June Borders, beautiful vistas of the castle can be seen through the fusion of colourful flowers.

You return back to Thainstone House later for another overnight.


Day 3 INVERNESS/HIGHLANDSYour tour heads further north today and starts the day with a visit to Fyvie Castle near Turriff, which will open its doors especially for our party at 9.30. Fyvie Castle dates back to the 13th century and has a fine collection of arms and armour as well as 17th century tapestries and opulent Edwardian interiors.You then continue, travelling through beautiful scenery and on to Nairn, where lunch will be taken at nearby Brodie Castle. Then you have time to explore the castle further. Dating from the 16th century, this imposing castle stands in rich Morayshire parkland. It has very unusual plasterwork and a major art collection and tells the fascinating story of the Brodie family.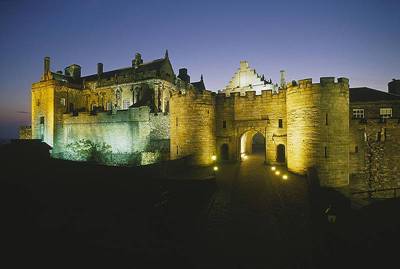 On route to our hotel in Tain we make a stop at Culloden, to take the Culloden Walk. The Clan Stone Walkway is designed to commemorate the Scottish Clans and their clansmen who fought at the battle of Culloden with a special INSIGNIA Stone. The Clans are represented with their individual Crest and preferred personal inscription. After the visit you continue to Knockomie House Hotel. A dinner for our group will be held tonight in one of the private rooms.


Day 4 DISTILLERY/LOCH LEVEN/EDINBURGH Today sees us travelling south again through some of the most stunning scenery Scotland has to offer. We are passing thought Inverness and travel to Kingussie where we make a photo stop at the Ruthven Barracks. From here we continue to Dalwhinnie Distillery. Dalwhinnie is the highest Distillery in Scotland and takes its waters right from the source of the River Spey. A tour of the distillery is included in the tour, you will also have the chance to taste the 'Water of Life'. After a lunch stop at Pitlochry we head to Loch Leven by Kinross. In the middle of the Loch you find Loch Leven Castle, a late 14th century tower, which was the setting for the most traumatic year in the life of Mary Queen of Scots. It was in 1567 that she was imprisoned and forced to abdicate before her dramatic escape a year later. We will make the boat ride over to the castle, following in the footsteps of Mary Queen of Scots. Then explore at your leisure the island and tower house. Finally it is time to return back to Edinburgh, arriving around 18.30.

SCOTTISH CASTLE EXPERIENCE


Departure Point All our scheduled tours from Edinburgh depart from Waterloo Place, EH1 3EG at the East end of Princes Street (beside Balmoral Hotel). Return to Waverley Bridge opposite Waverley Train Station

Inclusions:
Transportation by top of the range 16 seat Mercedes minicoach for a more personal experience
Services of a professional driver/guide
Accommodation at Thainstone House Hotel, 1 night Knockomie House Hotel;
Special Package includes:
Private 3 course farewell dinner at Knockomie House.
Entrances and tours (guided and self guided) at Falkland Palace, House of Dun, Castle Fraser, Crathes Castle, Fyvie Castle, Brodie Castle, Culloden, Dalwhinnie Distillery, Loch Leven Boat trip and Castle.
Breakfast.
All ferry and bridge crossings
Discount Card - money off restaurants, shopping and attractions.
*NB On occasions, when villages we stay in have events on, accommodation can be scarce and expensive so we may use other locations for your accommodation on the tour. We will always inform you of this when this is necessary.
We regret we do not carry children under 5 years.
Important Information Because we believe in time off the bus and give you opportunities to take nature walks we recommend you bring suitable clothing and footwear for your tour. Scotland can be a wet place!!
GUARANTEED DEPARTURES You book - you go! GUARANTEED SMALL GROUPS 16 passengers maximum!
NEW! We can accept payments in US dollars, euros and pounds sterling. Please ask for our wire transfer details.
Currency Converter
by
OANDA.com, The Currency Site
.
Sell at USD
June 1-Sep 30
May, Oct, Easter, Christmas
Adult 
Child 
Adult 
Child 
2017
Hotel 4*
$1,089
n/a
$1,057
n/a
single
$1,305
n/a
$1,274
n/a
Friday
05MAY17, 19MAY19, 09JUN17, 30JUN17, 21JUL17, 18AUG17, 08SEP17,
4DSCEX
9.00
18.30
22SEP17 and 06OCT17

Scotland's Haunted Castles - SUGGESTED SELF DRIVE ITINERARY

Day 1 Arrival Arrive Edinburgh Airport and pick up your rental car. Drive to Airth Castle where the staff may take you on a ghostly tour of the castle. Watch out for rooms No 3, No 9 and No 23 as they are all haunted by a small group of playing children. Even their ghostly nanny is still around and she sometimes looks after children whose parents have gone to dinner in the hotel restaurant! Do remember – rooms that are haunted by ghosts will feel chillier… Overnight at Airth Castle.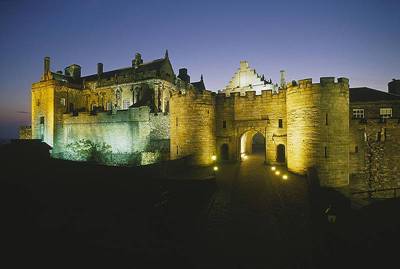 Day 2 Stirling Castle & Linlithgow Palace Today you have the opportunity to tour two historic castles associated with Mary Queen of Scots. Stirling Castle stands on volcanic rock overlooking the town of Stirling. The Pink Lady, a beautiful woman in a pink silk gown, has been seen many times at the castle. Some say it is Mary Queen of Scots who was crowned in the old chapel in 1533, and others that it is the ghost of a woman searching for her husband who had been killed when Edward I captured the castle in 1304. A Grey Lady has also been known to appear and it is assumed that she was an attendant to Mary Stuart and saved her from certain death when the draperies on the royal bed caught fire. Unfortunately, every appearance of the Grey Lady heralds a disaster to befall the Castle! Last but not least, listen out for the mysterious footsteps that have been heard all over the Castle…Just down the road at Linlithgow Palace, where Mary Queen of Scots was born in 1542, Queen Margaret's Bower is said to be haunted by Margaret Tudor, waiting for the return of her husband, James IV, who was battling against the army of his brother-in-law, Henry VIII. James died on the battlefield and Margaret waited in vain –but not for too long, as she then proceeded to marry her husband arch enemy, the Earl of Douglas. So may be it's a late regret that makes her appear in the Bower. Overnight at Airth Castle.

Day 3 Glamis Castle Today make the trip through Fife to Glamis Castle, one of Scotland's most beautiful and most haunted castles. It was the home of the Queen Mother in her youth and the birthplace of her daughter Princess Margaret. However, its history dates back to the mist of time and Glamis was once the hunting lodge of that most infamous of Scottish kings, Macbeth! The castle plays host to a plethora of ghosts, one of which is Lady Janet Glamis, who was accused of witchcraft by King James V and burnt at the stake at Castle Hill in Edinburgh in 1537. According to eyewitness reports, a mist arose from her funeral pyre and descended over all of Scotland. You may see her above the clock tower or sometimes in the chapel, where no one ever sits on the seat in the corner out of respect for Lady Glamis. There is also the spectral appearance of a small servant boy, who had frozen to death, a serving girl turned vampire and a tongue-less woman running through the grounds, but the most amazing mystery is the Missing Room. The window to the room can be clearly seen from the outside of the castle, but no entrance can be found and the window is bricked up. It is said that the Earl of Glamis played cards with his friends and did not want to stop when the clock announced the coming of Sunday. A black-clothed stranger entered the room and joined their game and when next a servant looked into the room he found his master and friends playing cards with the devil surrounded by a wall of fire. The room has been bricked up ever since, but on a quiet night you can still hear the men playing cards. Overnight at Fernie Castle, near St. Andrews.

Day 4 Cawdor Castle Today we journey north into the Highlands. You will have the opportunity to stop in one of the many picturesque villages on the way, but make sure you leave enough time to take in a different kind of spirit, Uisge Beatha. Take a tour of one of the many whisky distilleries in Speyside, learn about the Angel's Share and get a taste of the Water of Life. Take a tour of Cawdor Castle, a superb fairy-tale castle romantically linked with Shakespeare's Macbeth. There are reports of 3 ghosts at Cawdor – a mysterious appearance dressed in blue velvet and the ghost of John Campbell of Cawdor, but the saddest appearance is that of a young lady without hands. It is said that she was the daughter of one the Earls of Cawdor who had been in love with a man her father did not approve of. As a punishment her father had her hands cut off so that she "could never embrace her lover again". Overnight in Tulloch Castle.

Day 5 Dunrobin Castle Today you will visit Dunrobin Castle, the most northerly of Scotland's great castles and home of the Earls of Sutherland. The upper floor of the castle is said to be haunted by the daughter of the 14th Earl. She had been imprisoned in the attic by her father for falling in love with the wrong man. When she tried to flee the Castle and elope with her lover, she fell to her death from a window. This castle also holds Falconry demonstrations in the afternoons. Overnight in Tulloch Castle.
Day 6 Loch Ness & Urquhart Castle Travelling south along the banks of Loch Ness, keep your eyes pealed for its famous inhabitant, the loch Ness Monster. Your best vantage point is at Urquhart Castle, the ruins of one of the largest castles in Scotland which fell into decay after 1689 and was blown up in 1692 to prevent it being occupied by the Jacobites. Eilean Donan Castle, Wester Ross - A Spanish soldier, killed in the castle or in a nearby battle is said to haunt the castle. And one of the bedrooms is haunted by a Lady Mary. Kellie Castle - The spirit of Anne Erskine who fell from one of the upstairs windows is said to haunt a spiral staircase in the castle. Continue south through one of the most picturesque and haunting sites in Scotland, the valley of Glencoe, scene of the 1692 massacre of the MacDonald Clan by the soldiers of King William. Overnight in Airth Castle.


Day 7 Edinburgh Castle It's almost time to depart. Spend your remaining time in Edinburgh, doing some last minute shopping or, if you haven't seen enough ghosts yet, tour the Castle which has many, including a headless drummer who only appears when the Castle is about to be attacked and a piper who disappeared in the tunnels between the Castle and the High Street. Recently, builders undertaking renovating works have been disturbed by ghosts said to be French prisoners of war, who were held captives in the Vaults underneath the Castle. Borthwick Castle, Lothian - an apparition of Mary Queen of Scots, dressed as a page boy, is said to appear; she escaped from Borthwick Castle in 1567 in a similar disguise. Stay at Dalhousie Castle.
Day 8 Return home.



Some more:
Braemar Castle (nr. Aberdeen) - said to be haunted by a blonde haired, pretty girl, possibly a newly married bride who committed suicide because she thought her husband had abandoned her. (A sighting of her was reported in 1987). The spirit of John Farquharson of Inverey is also around - he is known as the "Black Colonel". Castle Fraser (nr. Aberdeen)- a young woman who was murdered in the castle in the 19th century and dragged down the stairs before being buried. Her blood on the stairs could not be removed. Corgarff Castle (nr. Aberdeen) - ghostly screams have been heard in the castle, but nobody has hazarded a guess at who, or what, is making them. Craigievar Castle(nr. Aberdeen) - the ghost here is of one of the Gordon family who was murdered by being pushed out of one of the windows of the castle. Culzean Castle, Ayrshire - a ghostly piper is heard when a Kennedy is getting married (the castle used to be a Kennedy stronghold). Another ghost seen here include a young woman dressed in a ball gown. Skibo Castle (N. of Inverness) - although the present castle was built as recently as the 19th century, it is on the site of much earlier buildings. A ghost of a young girl used to haunt old castle. Bones were later found in the castle walls and once they had been buried, the hauntings were never seen again.
Please Email Us For Information Call 1-800-221-2474 9AM - 5PM Mon-Fri Eastern Time

Call 1-800-221-2474 9AM - 6PM Mon-Fri Eastern Time or (516) 248-2042 outside USA/Canada
Although we have provided as much information as possible on our website, we are happy to answer your questions directly on the phone. Sometimes, it is just easier to speak to one of us. We are awaiting your call.