A Scottish Journey - From Edinburgh to the Highlands & Isle of Skye, Isles of Mull & Iona
Inverness, St. Andrews, Isle of Skye, Isle of Mull & Isle of Iona
8 DAYS • 7 NIGHTS • UP TO 15 GUESTS
Small Group tour of Scottish Highlands and Hebrides Islands. See castles of Scotland. Towering mountains and enchanting lochs. Dramatic cliff-top castles and hideaway villages. Infamous battles and inexplicable legends. We journey up and down Scotland, from coastal cities to Hebridean Islands, seeking out its one-of-a-kind landscapes, mesmerising history and undeniable charm. Visit the Isle of Skye, and travel from Mull to the religious center of Iona.
THE LYNOTT DIFFERENCE 
Enjoy a piper welcome, meet the Highland cattle and tuck into a beef tasting lunch at the Aberdeenshire Highland Beef Farm
Discover Duart, Inverness and Crathes castles – and explore their beautiful gardens
Stay on the breathtaking Isle of Skye and Isle of Mull
DAY 1 EDINBURGH – ST ANDREWS – BALLATER
After meeting in Edinburgh, we'll board the mini-coach and take to the scenic route. Now, the journey begins! After travelling past towering mountains and tiny East Neuk fishing villages, we'll reach St Andrews: a tiny town with a big reputation for world-class golf. Later today, we'll check into our accommodation near the beautiful village of Ballater – where we'll enjoy a welcome dinner together. (D)
Accommodation: The Loch Kinord Hotel (or similar)
DAY 2 BALLATER – CRATHES CASTLE – BALLATER
Get ready to dive into some truly authentic Scottish experiences today. First, we'll visit the grand Crathes Castle  – where we'll learn more about its fascinating history (and pay a visit to the glorious gardens) on a guided tour. Then: we'll take a tour of the Aberdeenshire Highland Beef farm, where we'll receive a traditional piper welcome, meet the famous Highland cattle and enjoy a premium beef tasting lunch. (B,L)
Accommodation: The Loch Kinord Hotel (or similar)
DAY 3 BALLATER – CAIRNGORMS NATIONAL PARK – CULLODEN – INVERNESS
Our day will begin in dramatic fashion as we travel through the awe-inspiring scenery of Cairngorms National Park on the way to the atmospheric Culloden Battlefield – where we'll immerse ourselves in history at the Visitor Centre. Our final stop of the day will be Inverness, the welcoming capital of the Highlands. (B,D)
Accommodation: The Kingsmills Hotel (or similar)
DAY 4 INVERNESS
After this morning's walking tour, the city is your oyster. Visit Inverness Castle and Cathedral, explore the charming Victorian Market or simply hunt down a good pub to relax in. What you do today is completely up to you! (B)
Accommodation: The Kingsmills Hotel (or similar)


DAY 5 INVERNESS – PLOCKTON – ISLE OF SKYE
First today: a visit to the quaint village of Plockton, where painted cottages cluster around a picturesque bay. After working up an appetite strolling the harbour and observing the yachts, we'll move on to Kyle of Lochalsh for a sumptuous seafood lunch. Today's final destination will be the Isle of Skye: our home for the next two nights. (B,L)
Accommodation: The Sligachan Hotel (or similar)
DAY 6 ISLE OF SKYE
Sensational landscapes, rare wildlife and imagination-firing history – the Isle of Skye delivers on every level. This is North Highland scenery on a grand scale! While here, we'll discover the island's unique geology, including the extraordinary Quiraing, Kilt Rock and Old Man of Storr. (B,D)
Accommodation: The Sligachan Hotel (or similar)
DAY 7 ISLE OF SKYE – ISLE OF MULL
Today we'll continue our journey through soul-stirring Scottish scenery before taking a short ferry ride over to the breathtaking Isle of Mull. Here, the evening will be yours to spend as you please. (B)
Accommodation: The Western Isles Hotel (or similar)
DAY 8 ISLE OF MULL – ISLE OF IONA – ISLE OF MULL
First today, we'll embark on a tour of the grand staterooms and empty dungeons of the imposing Duart Castle – the oldest inhabited castle on the island. Then: the best way to see the Hebrides is by island hopping – and this afternoon, we'll do just that. From Mull's little village of Fionnphort, we'll set sail to Iona: where the Abbey and Nunnery await us. After a busy day, we'll return to our hotel on Mull to share a final dinner together. (B,D)
Accommodation: The Western Isles Hotel (or similar)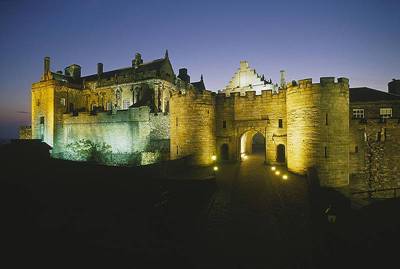 DAY 9 ISLE OF MULL – STIRLING – EDINBURGH
Back to the mainland we go. It's been a tour that's delved deep into Scotland's heritage, so it's only right that we finish with a stop in historic Stirling – where a drive through the Old Town will bring us to the magnificent hilltop castle, one of Scotland's most impressive and significant monuments. What better way to round off our tour before returning to Edinburgh? (B)
INCLUSIONS
8 nights in boutique accommodation
Experienced Lynott Tour Leader and Driver
Premium mini-coach transportation
Daily full Scottish breakfasts (B), 2 lunches (L), 4 dinners (D)
Beef tasting lunch at the Aberdeenshire Highland Beef farm
Whisky tasting session
Entrance included to all attractions in the itinerary, including: Crathes Castle, the Culloden Battlefield Visitor Centre and Duart Castle
This tour begins and ends at Eden Locke. Pre and post stays are available.
Not Available - No individual space available.Guaranteed=Guaranteed to go, and there are still a few seats available. Book now.
Private Departure=Departure booked by a group. No individual space available.
What will our hotels be like? Elegant, comfortable hotels, inns and castles which give you always reflect character and charm, A true feeling of the country that you are in. Not purpose built cookie-cutter hotels, each is unique and exudes its own charm.This traditional hotel, in an idyllic setting, with spectacular views across the sound of Sleat to the Knoydart Hills, retains its old world charm giving each guest a truly genuine highland welcome from the moment you arrive.
For example: Eilean Iarmain
Built in 1888, Hotel Eilean Iarmain is a 19th century small Country House Hotel, situated in a picturesque bay in the south of Skye. People have been coming here for over a hundred years, drawn by the landscape of this Hebridean Island, its geology, botany, ornithology, history, Gaelic language and culture. Privately owned, the Hotel has retained its old fashioned character in order to retain its Highland charm and old world atmosphere. The rooms are decorated in cotton and linen chintzes, with traditional furniture. There are log fires in the sitting room, dining room and in the bar. Candlelit dinners can be enjoyed in the dining room or conservatory, with views to the lighthouse and the bay.
Starts Edinburgh
Ends Edinburgh
2020
Mon 1 Jun
Tue 9 Jun
US$3,619
Wed 3 Jun
Thu 11 Jun
US$3,619
Fri 5 Jun
Sat 13 Jun
US$3,619
Fri 12 Jun
Sat 20 Jun
US$3,619
Sun 14 Jun
Mon 22 Jun
US$3,619
Fri 19 Jun
Sat 27 Jun
US$3,619
Wed 24 Jun
Thu 2 Jul
US$3,619
Fri 26 Jun
Sat 4 Jul
US$3,619
Sun 28 Jun
Mon 6 Jul
US$3,619
Tue 30 Jun
Wed 8 Jul
US$3,619
Sun 5 Jul
Mon 13 Jul
US$3,469
Tue 7 Jul
Wed 15 Jul
US$3,469
Sun 12 Jul
Mon 20 Jul
US$3,469
Tue 14 Jul
Wed 22 Jul
US$3,469
Sat 18 Jul
Sun 26 Jul
SOLD OUT
US$3,469
Mon 20 Jul
Tue 28 Jul
US$3,469
Wed 22 Jul
Thu 30 Jul
US$3,469
Fri 24 Jul
Sat 1 Aug
US$3,619
Sun 2 Aug
Mon 10 Aug
US$3,619
Wed 5 Aug
Thu 13 Aug
US$3,619
Fri 7 Aug
Sat 15 Aug
US$3,619
Wed 12 Aug
Thu 20 Aug
US$3,619
Fri 14 Aug
Sat 22 Aug
US$3,619
Wed 19 Aug
Thu 27 Aug
US$3,619
Fri 21 Aug
Sat 29 Aug
US$3,619
Sun 23 Aug
Mon 31 Aug
US$3,619
Tue 25 Aug
Wed 2 Sep
US$3,619
Thu 27 Aug
Fri 4 Sep
SOLD OUT
US$3,619
Sat 29 Aug
Sun 6 Sep
US$3,619
Mon 31 Aug
Tue 8 Sep
US$3,619
Wed 2 Sep
Thu 10 Sep
US$3,619
Tue 8 Sep
Wed 16 Sep
SOLD OUT
US$3,619
Thu 10 Sep
Fri 18 Sep
US$3,619
Tue 15 Sep
Wed 23 Sep
US$3,619
Fri 18 Sep
Sat 26 Sep
US$3,619
Sun 20 Sep
Mon 28 Sep
US$3,619
Tue 22 Sep
Wed 30 Sep
US$3,619
Thu 24 Sep
Fri 2 Oct
SOLD OUT
US$3,619
Sun 27 Sep
Mon 5 Oct
US$3,619
Tue 29 Sep
Wed 7 Oct
US$3,619
Thu 1 Oct
Fri 9 Oct
$3,089
Sat 3 Oct
Sun 11 Oct
$3,089
Single
Supplement
1240
Call
+1-800-221-2474
9AM - 5PM Mon-Fri Eastern Time
Please Email Us For Information