Latest update May 15, 2013
Larger Irish Tours
Larger British Tours
1.

Irish Welcome - 9 Day Coach Tour


From $1248. Now from $1173 - Save $150 per couple! ($75 per person)
Book by May 31, 2013 and use code 053113WEA75


Highlights: Dublin's Abbey Tavern, Kate Kearney's Cottage Dinner & Music, Killarney Home Stays, Kiss the Blarney Stone, Dingle Peninsula, Waterford Crystal and more!
See tour details

Killkenny Castle
2.

Irish Gold - 8 or 9 Day Coach Tour


From $1198. Now from $1098 - Save $200 per couple! ($100 per person)
Book by May 31, 2013 and use code 053113GOA100


Highlights: Taylor's Three Rock Pub, Clonmacnoise Monastic Site, Killary Fjord Catamaran Cruise, Cliffs of Moher, Ring of Kerry, Jaunting Car Ride and more!
See tour details

Ring of Kerry
3.

Irish Tradition - 12 Day Coach Tour


From $1898. Now from $1798 - Save $200 per couple! ($100 per person)
Book by May 31, 2013 and use code 053113TRA100


Highlights: Brazen Head Pub, Giant's Causeway, Titanic Belfats, Clonmacnoise Monastic Site, Bunratty Castle Farewell Banquet and more!
See tour details

Rock of Cashel
4.

Taste of Wales & Ireland - 10 Day Coach Tour


From $1794. Now from $1694 - Save $200 per couple! ($100 per person)
Book by May 31, 2013 and use code 053113TOWI100


Highlights: Train Ride in Snowdonia, Welsh Castles & Scenery, St. David's Cathedral, Waterford Crystal Visitor Centre, Jaunting Car Ride, Titanic Walking Tour,Bunratty Castle Medieval Banquet and more!
See tour details

Tenby, Wales
5.

Scottish & Irish Gold - 15 or 16 Day Coach Tour


From $2704. Now from $2554 - Save $300 per couple! ($150 per person)
Book by May 31, 2013 and use code 053113DRAGOA150


Highlights: Edinburgh Dinner & Ceilidh, Scottish Highland Evening, Taylo'r Three Rock Irish Night, Loch Lomomd Scenic Cruise, St Andrew's Home of Golf and more!
See tour details
See our specials for last minute vacations
Lynott Tours - making travel easier since 1970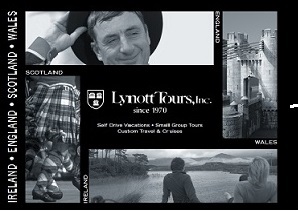 Our 2013 brochures are available
Order a copy here:
Order a Brochure - Ask for a Price Quote
Book a tour
Like us on Facebook
Our Best Offers:
Small group coach tours Ireland . Book today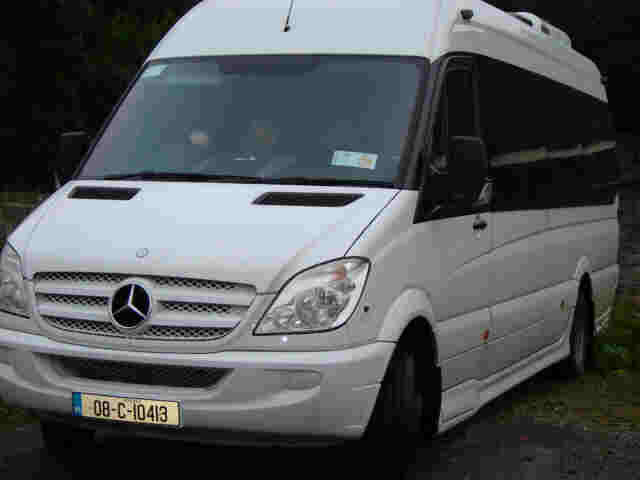 Our Smaller Tours Offer
Our small group tours are ready for booking.
8 day Irish Discovery
one week tour of Ireland Dublin to Shannon
8 day Northern Experienc e
visiting Northern Ireland Belfast to Dublin
11 day An Irish Melody
-Special Irish Escorted Tour for families- our best Ireland itinerary Dublin to Dublin
11 day Irish Experience
including Galway and Donegal Shannon to Shannon
7 day
Scottish Clan - Scotland Family Vacation
- perfect for families.
Great Britain England Scotland Wales
Smaller Tours:
Can be customized for a group of six or more.
6 day
Harry Potter
visiting film locations.
7 day
Scottish Clan - Scotland Family Vacation
- perfect for families.
Jane Austen, Beatrix Potter the Brontes
2013 cruises
British Isles Princess 12 Days
Southampton Roundtrip Ship: Around the British Isles, Ireland from London (Southampton) CRUISES
Take a look!
Britain Ireland
Cunard 2013
2013 Chelsea Garden Tour Rates
Dates announced. It's always a sell-out.
Book now!
Some new ideas:
A Week in an Irish Castle
Luxury Castles & Manors
Aer Lingus Ireland Vacations
Senior Discounts
Many of our air inclusive tours have discounts for you if you're 55+. Please check when making your reservation.

More Offers
Combine Two Large Coach Tours
Discount - Save $150 per couple Travel on two of our coach tours for a longer vacation and receive a discount of $150 per couple or $100 for singles. The discount will apply to the less expensive tour.
Senior Discount
$55 per person on some tours.
Save $55 per person on selected tours if you are aged 55 or over. Look for select dates on the following tours marked "55 and smiling." Book early and save!
9 Day Northern Gems Tour 10 Day Irish Explorer Tour 12 Day Irish Odyssey Tour 12 Day Irish Tradition Tour 12 Day Irish Classic Tour 13 Day Irish Classic Tour 14 Day Jewels of Ireland Tour 8 Day Best of Britain Tour 9 Day Best of Britain Tour 11 Day Scottish Isles & Glens Tour 10 Day Taste of Scotland & Ireland Tour 11 Day Taste of Scotland & Ireland Tour 11 Day Scots Irish Tour 14 Day British & Irish Grandeur Tour 14 Day British & Irish Voyager Tour 14 Day Scots Irish Tour & More 15 Day Scots Irish Tour & More
Youth Discount
– Save 10% per person on large coach tours if you are under 18 and traveling with at least one full fare paying passenger.
LOW SINGLE SUPPLEMENT ON SOME WALKING, LITERATURE AND GARDEN TOURS:
Escorted tours:
No single supplements in
Llandudno
,
Tenby.
For guests holidaying alone - extra value for a single room, but they are small. on our
British walking
,
literature
, and
some garden tours
.
Special Offers for Solos
So if you haven't reserved your single room yet, why not guarantee your place and treat yourself .
More solo ideas here
.
LAST MINUTE DEALS: book now!
What our clients say
Thank you for all of your attention to detail, and the extra things you did for us. The driver, Gerry Beechinor, was wonderful. In addition to his entertaining stories, he was a wealth of information on the history, poets, music and of course the sports of Ireland.
>>> >>> John and Sally O`Connor
Scotland Travel Specials, England Travel Specials, Travel Specials to Wales
Enjoy a
luxury vacation
.
Self Drive B&B Scotland
Scotland B&B and Castle
Two week self drive specials
Stay in a Scottish Castle
Are you suffering from vacation deprivation? Check out these last minute specials - vacations to go
Recently engaged? Best wishes! Look at our honeymoon specials. Getting married ! If you wish to renew your vows, we can do that, too! Scotland honeymoon
Rent A Cell Phone In Ireland or Great Britain
Rent a cell phone from us! Perfect for calling ahead if you are traveling on open vouchers, or for calling home. We will send you your cell phone before your departure for home, along with the phone number so that you can leave that number with friends and family to reach you in Ireland.
RENT A CELLPHONE FOR JUST $29 PLUS POSTAGE.
See details.
.
Rent a GPS
Shore excursions for all major cruise lines in Ireland and Britain.
Airfare can be included on all of our program
Lynott Tours can complete your travel experience by handling all the air reservations from your hometown. We only use scheduled carriers, who are known in the industry for their fine reputations, such as Aer Lingus, Icelandair and others. We offer the lowest possible fares from all major U.S. cities in conjunction with our land packages.
Tour conditions
Travel insurance
Click here for a credit card form.
Military Discounts:
Low group rates & discounts
Save 10% on all Ireland and Great Britain scheduled motorcoach tours. New bookings only.
You always receive a military discount with Princess, but in addition, Lynott Tours offers low group rates, shore excursions on Britain & Ireland cruises, and other benefits. Call about a cruise today. (800) 221-2474 cruises@lynotttours.com Onboard credit amount per stateroom*: Cruise Length Amount 6 days or less $50 per stateroom 7-13 days $100 per stateroom 14 days or longer $250 per stateroom *This deal requires valid military ID in order to redeems .... •Offer is combinable with other Onboard Credit offers. Shareholder and military benefits can be combined.
Military Appreciation ID must be faxed or emailed to Lynott Tours and received within standard booking option period. a. Active personnel serving with: Department of the Army WHITE ID Department of the Navy WHITE ID Department of the Air Force WHITE ID U.S. Coast Guard WHITE ID U.S. Marine Corps WHITE ID National Guard Bureau WHITE ID Reserves WHITE ID Canadian National Defense WHITE N.D.21 ID b. Retired personnel U.S. BLUE or TAN ID Canadian National Defense WHITE N.D.21 ID c. Veterans Proof of Military Service d. Honorably Discharged BLUE . Offer is capacity controlled, applies to person & spouse only, cannot be combined with other offers, subject to availability and may be withdrawn at any time and without notice.
In recognition of those who have served and continue to serve in the military, Cunard Line is promoting its military on board credit program for active and retired military personnel. The credit, which ranges from $50 to $250 per stateroom depending on the length of the voyage, is available to members of the United States and Canadian armed forces with appropriate service identification.... The on board credit amount is $50 for voyages six days in length or less, $100 for voyages of seven to 13 days, or $250 for voyages of 14 days or longer, offered on a per stateroom basis.
Specials and discounts cannot be combined with any other offer.
Our 2013 brochures are available NOW!
Call 1-800-221-2474 9AM - 6PM Mon-Fri Eastern Time or (516) 248-2042 outside USA/Canada

Please Email Us For Information