EPISCOPAL TOUR OF ENGLAND - GREAT CATHEDRALS
Visit the great cathedrals of England.
This is a sample itinerary for groups of 6 or more.



DAY 1
Arrive in London, and travel to Cambridge.  Please arrive before 10AMat Heathrow to enjoy a transfer. We will have time to rest and attend Kings College Evensong.
DAY 2
Journey to  Ely, a surprisingly remote and rural location for one of England's greatest cathedrals. The mighty Norman nave and transepts (c. 1110–30), with their thick walls, tiers of arches and clusters of shafts, leads to the crossing and its unique 14th-century octagonal lantern, a work of genius. The detached Lady Chapel, also in the Decorated style, is the largest and perhaps the finest in the country; the Early English choir a ravishing setting for the lost shrine to St Etheldreda. Overnight Lincoln.
DAY 3
Lincoln. Also largely by-passed by modern urban development, Lincoln's hilltop site above the broad Witham valley renders this enormous cathedral even more imposing. Largely rebuilt from 1192, it has always been revered as one of the finest of Gothic cathedrals, its fascinations enhanced by myriad minor inconsistencies and variations which reveal the struggle for solutions at the frontiers of artistic fashion and technological capability. The steep streets of the ancient town are a delight. Spend tonight in York.
DAY 4
Durham. The topography and riverside walk provide the most exciting approach to any English cathedral. Massive towers rise above the trees which cling to the steep embankment, a defensible bulwark in the frequently hostile North. Largely completed in the decades from 1903 and little altered since, the nave and quire with their great cylindrical pillars, distinguished by their engraved patterns, constitute one of the world's greatest Romanesque churches. Overnight York.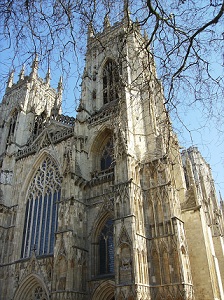 DAY 5
York & Coventry. York Minster is the largest of English mediaeval cathedrals. Above ground it is all Gothic, from Early English to Perpendicular but predominantly 14th-century, demonstrating an exceptional knowledge of the latest French Rayonnant ideas. It is a treasure trove of original stained glass, and the polygonal chapter house is without peer. The city retains its mediaeval walls and an exceptional quantity of historic buildings.
Coventry Cathedral is perhaps internationally Britain's best-known 20th-cent. building. Built to designs by Sir Basil Spence beside the ruins of its predecessor destroyed in 1940, it is both a showcase for some of the best art of the time (Graham Sutherland, John Piper, Jacob Epstein) and a moving symbol of rebirth and reconciliation.
DAY 6 Salisbury. One of the most uplifting experiences in English architecture, Salisbury is unique among the Gothic cathedrals in England in that it was built on a virgin site and largely in a single campaign, 1220–58. To homogeneity are added lucidity of design and perfection of detail. Completed a century later, the spire at 404 feet is the tallest mediaeval structure in Britain. The close is the finest in the country, and the town beyond has an extensive expanse of historic fabric.
Winchester. Winchester Cathedral is one of Europe's longest churches, reflecting the city's status intermittently from the 9th to the 17th centuries as a seat of English government. The transepts are unembellished early Norman (1079), raw architecture of brute power, whereas the mighty nave was dressed 300 years later in suave Perpendicular garb. The profusion of chantry chapels constitutes an enchanting collection of Gothic micro-architecture. Wall paintings, floor tiles, the finest 12th-cent. Bible.  Continue to Canterbury.
DAY 7 Canterbury Cathedral in Canterbury, Kent, is one of the oldest and most famous Christian structures in England and forms part of a World Heritage Site. Evensong.
Day 8  Return Home. Transfer to Heathrow for all flights departing after 12 noon.
Call 1-800-221-2474   9AM - 6PM or Please Email Us For Information

Extra nights available in London.
Episcopal Tour of England Includes:
* Arrival and departure airport transfers, according to our schedule.
* Deluxe motorcoach with driver/guide throughout.
* First-class accommodations for 7 nights; room with private bath.
* 7 breakfasts (CB, B), 2 dinners (D)
* Tea and scones at a farmhouse.
* Baggage handling.
* All taxes and service charges.
* All sightseeing and entrance fees.


Call 1-800-221-2474   9AM - 6PM or Please Email Us For Information
Customized Travel Programs for Religious Institutions
At Lynott Tours, we create customized travel programs that will satisfy your congregation and fulfill your objectives. We individually design successful programs to your exact specifications. WE CAN OPERATE TOURS FOR AS FEW AS 6 PEOPLE.
2019:
USD per person twin
           2,748
         3,511
         3,122
         2,795
         2,410
6
10
12
14
20
SINGLE SUPPLEMENT
714


Let us create a faith-based vacation package for your group. Our sample tour above can be modified to suit your congregation.
Call 1-800-221-2474   9AM - 6PM or Please Email Us For Information