Irish Odyssey 12 Day - Dublin to Dublin Group Tour
One of our most requested Ireland trips, perfect for those travelling to Ireland for the first time. See ever-changing landscapes, splendid seascapes, purple moorlands, monastic ruins, enchanting lakes, towering fortresses, and patchwork of fields spread in every shade of green.
Ireland Tour
Your Day-by-Day Itinerary
Day 1: Dublin City Tour & Kilmainham Gaol
Ireland travel books extol the virtues of Dublin, an you experience it first hand. Your Dublin trip starts at 2:00 pm when you meet your tour guide at your Dublin hotel. Dublin has retained its aura of Georgian elegance with many examples of fine architecture.  Tour Trinity College, founded in the sixteenth century, where you will certainly want to spend some time in the library viewing the famous Book of Kells.  You'll see the curved Bank of Ireland Building which was once the Parliament House.  Visit Kilmainham Gaol where many of Ireland's leaders, including Robert Emmett, Eamon DeValera and Padraig Pearse, were imprisoned during the 19th and early 20th centuries. In the evening meet your tour guide and travel companions over a welcome drink.

Day 2: Taylor's Three Rock Pub

Visit EPIC the Irish Emigration Museum, the world's only fully digital museum, and discover the story of the 10 million people who have left Ireland in the last 1,500 years. Then enjoy the afternoon exploring on a Hop-On, Hop-Off bus tour with admission to one of Dublin's key visitor attractions. Later, enjoy dinner and entertainment at Taylors Three Rock Pub. (B, D)


Day 3: Farmhouse Visit & House of Waterford Crystal

Travel through Kildare to visit a traditional farmhouse to meet the owners and learn about country living while enjoying tea and freshly-baked scones. Drive south to Waterford to tour the House of Waterford Crystal. Watch experienced craftspeople create all the various stages of production, from glass blowing and cutting to the final polishing of magnificent trophies. Visit the nearby Medieval Museum, a modern building which incorporates a 13th century Choristers' Hall and the 15th century Mayor's Wine Vault. Continue along the south coast to Cork for an overnight stay. (B, D) Call 1-800-221-2474 9AM - 5PM Mon-Fri Eastern Time
Please Email Us For Information

Day 4: Blarney Castle & Killarney

Start your day with a local guide on a brief walking tour of the city and the English Market. A few miles outside Cork, visit Blarney Castle and climb to the battlements to kiss the famous "Stone of Eloquence." Also visit the Blarney Woollen Mills where you can find quality Irish-made goods of all types. Drive through Counties Cork and Kerry to the colorful town of Kenmare. Stop at Moll's Gap for great views of part of the Ring of Kerry and watch trained dogs herding sheep. Check in to your hotel and relax before dinner. (B, D)


Day 5: Jaunting Car Ride & Dingle Peninsula

Take a traditional horse-drawn jaunting car ride to Ross Castle to view Lough Leane, largest of Killarney's lakes. Explore the scenic Dingle Peninsula to experience views of heathery mountains, sandy beaches and rocky headlands. Dingle is a native Gaelic speaking area and the lilt of this ancient tongue adds an element of mystery to this hauntingly beautiful place.  Visit the Blasket Centre in Dunquin to learn about the offshore Blasket Islands, inhabited until 1953 by hardy farming and fishing families. Return to the town of Dingle and enjoy a light lunch before returning to Killarney. The evening is free. (B, L)


Day 6: Cliffs of Moher & Galway
Sample tea and scones in a pub in Listowel, associated with the writer, J. B. Keane. Travel north and cross the wide River Shannon Estuary by ferry and drive along the coast of County Clare. Here view the famous Cliffs of Moher, an impressive wall of rock that rises 700 feet above the Atlantic Ocean. Walk to O'Brien's Tower to get views of Connemara and the Aran Islands. Continue to Galway for a walking tour and check in to your hotel, which overlooks Galway Bay. Galway is one of the most interesting of Irish towns with its narrow winding lanes, antique shops and quaint pubs.  (B, D)

Day 7: Connemara
Travel through Connemara for sweeping views of misty mountains and shimmering lakes. Take a scenic cruise on Lough Corrib and sip some creamy Irish coffee. Stop at Kylemore Abbey for a walk through the elegant mansion set beside a tranquil lake. Enjoy a casual lunch before returning to Galway, where the rest of the day is free for independent sightseeing and dining. (B, L)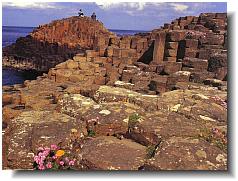 Day 8: Ballintubber Abbey

Travel north to Claremorris to visit Ballintubber Abbey, known as "the Abbey that refused to die," Ireland's only royal Abbey, which has been in continuous use for more than 780 years. Visit Belleek Pottery, then follow the Atlantic shoreline of Donegal Bay to the town of Donegal for some free time. Continue your drive through the majestic Barnesmore Gap to Derry. (B, D)
Call 1-800-221-2474 9AM - 5PM Mon-Fri Eastern Time
Please Email Us For Information
Day 9: Derry Walk & Giant's Causeway
Join a local guide for a walking tour around the ancient city of Derry to see the Guildhall, St. Columb's Cathedral, the Diamond and the 16th century walls. Stop for photos at the ruined Dunluce Castle and explore the Giant's Causeway, huge hexagonal basalt columns formed over 60 million years ago. The oversized rocks have given rise to many legends. See turf cutting at Shean's Heritage Farm and return to Derry for free time. (B, D)
Day 10: Titanic Belfast & Cabra Castle Stay
Drive to Belfast for a panoramic city tour followed by a visit to Titanic Belfast to learn about this famous liner through state-of-the-art displays. Travel to Kingscourt and your castle hotel, built in 1760. Its halls and courtyards once echoed to the footsteps of Oliver Cromwell and James II.  Arrive mid-afternoon so that you can enjoy this lovely property and maybe play the 9-hole golf course. After dinner in the Court Restaurant, enjoy a display of Irish step-dancing. (B, D)
Day 11: Megalithic Tombs & Historic Drogheda Walk
Visit the Boyne Valley Visitor Centre to learn about the 5,000-year-old burial tombs of Newgrange and Knowth. Tour one of them to see how primitive people managed to align huge boulders precisely. Continue to Drogheda to join a local guide for a walking tour to see the head of Oliver Plunkett, the first Irishman to be canonized in 700 years, and 14th century St. Laurence Gate in the medieval walls. In the evening enjoy a farewell dinner with live music at Wm Cairnes Gastropub, located in a former brewery. (B, D)
Day 12: Tour Ends in Drogheda
Your tour ends after breakfast. Drogheda is 30 miles north of Dublin Airport so ensure you have appropriate transfer arrangements made. (B)
B: Breakfast; L: Lunch; D: Dinner
One of our most requested Ireland trips includes:
Visit the Brú na Boinne Visitor Center to learn about the 5,000-year-old burial tombs of Newgrange, which remain mysterious marvels to this day
Enjoy a special brew designed at Walled City Brewery in Derry
Relax as you take in a special step-dancing display at the Cabra Castle Hotel
12 days/10 nights/19 meals
GROUP AIRPORT TRANSFERS
When we book your flights together with a coach tour, we include complimentary group transfers on the starting and ending date of tours at times specified on each itinerary-a $30 per person fee applies to land only bookings.
Sightseeing by luxury coach

Professional driver/guide

11 nights in hotels listed

11 hot breakfasts, 1 lunch and 9 dinners including Taylors Three Rock Pub with live show, and the Walled City Brewery Restaurant.
Welcome get-together drink

Tours of Dublin and Belfast

Farmhouse visit for tea and scones

Ballintubber Abbey Belleek Pottery Brú na Boinne Visitor Center Cliffs of Moher Giant's Causeway Kilmainham Gaol Kylemore Abbey Titanic Belfast

Headsets for walking tours

Deluxe carry-on backpack, ticket wallet, luggage tags & strap

All local taxes, hotel service charges & porterage for one suitcase per person

Free Wi-Fi on coaches and in hotel lobbies


Your Hotels Stay at the following (or similar):
Herbert Park Hotel, Dublin (2 nights)
The River Lee Hotel, Cork (1 night)
Killarney Plaza Hotel, Killarney (2 nights)
The Galmont Hotel & Spa, Galway (2 nights)
City Hotel, Derry (2 nights)
Cabra Castle Hotel, Kingscourt (1 night)
Knightsbrook Hotel & Golf Resort, Meath (1 night)
Did you know? A full seven percent of the entire Irish barley crop goes to the production of Guinness beer.
Price per person sharing a twin or triple room. ONLY ONE TRIPLE ROOM IS AVAILABLE PER DEPARTURE - BOOK EARLY. Save 10% per person on coach land tour prices if you are 8 & under 17 and traveling with at least one full fare paying passenger. Airfare is available from many cities. Just ask.
Guaranteed Price This Tour & Continue Cancellation Penalties: Airfare up to 100%; Land: Penalties per person apply: 70 days or longer: Forfeiture of deposit 69 - 46 days: 35% per person 45 - 8 days: 45% per person 7 - 1 days: 60% per person, On day of departure: 100% per person Travel Insurance from $60
| | |
| --- | --- |
| Start Date | USD per person |
| 3/4/2022 | 2915 |
| 3/11/2022 | 2615 |
| 3/25/2022 | 2965 |
| 4/1/2022 | 2835 |
| 4/8/2022 | 2835 |
| 4/15/2022 | 3170 |
| 4/22/2022 | 3170 |
| 4/29/2022 | 3225 |
| 5/6/2022 | 3490 |
| 5/13/2022 | 3490 |
| 5/20/2022 | 3135 |
| 5/27/2022 | 3195 |
| 6/3/2022 | 3660 |
| 6/10/2022 | 3660 |
| 6/17/2022 | 3290 |
| 6/24/2022 | 3660 |
| 7/1/2022 | 3660 |
| 7/8/2022 | 3290 |
| 7/15/2022 | 3660 |
| 7/29/2022 | 3660 |
| 8/12/2022 | 3660 |
| 8/19/2022 | 3290 |
| 9/2/2022 | 3290 |
| 9/9/2022 | 3290 |
| 9/16/2022 | 3660 |
| 9/23/2022 | 3290 |
| 9/30/2022 | 3580 |
| 10/7/2022 | 2915 |
| 10/14/2022 | 3260 |
| 10/21/2022 | 2860 |
| 10/28/2022 | 2615 |
| 11/4/2022 | 2895 |
| 4/24/2022 | 2895 |
| 5/8/2022 | 3135 |
| 5/22/2022 | 3560 |
| 6/5/2022 | 3290 |
| 6/26/2022 | 3290 |
| 7/10/2022 | 3290 |
| 7/17/2022 | 3290 |
| 8/5/2022 | 3660 |
| 8/7/2022 | 3290 |
| 8/21/2022 | 3660 |
| 8/26/2022 | 3290 |
| 9/4/2022 | 3660 |
| 9/25/2022 | 3225 |
| 10/2/2022 | 3260 |
| 10/9/2022 | 3260 |


Please Email Us For Information Call 1-800-221-2474 9AM - 5PM Mon-Fri Eastern Time