PRIVATE TOUR OF NORTHERN IRELAND
CHAUFFEUR-DRIVEN TOUR BELFAST - GIANT'S CAUSEWAY - WALLED CITY OF DERRY - OMAGH - ARMAGH - COUNTY DOWN
Let us drive you around our Northern Ireland. No one can make the region come to life better than our local Irish chauffeurs. Travel on a private guided tour of the northern half of Ireland along the shores of the coasts and green, gentle slopes. Part of the fun of travel is finding new and unique areas to visit, and there are many different alternatives here. See remarkable natural formations such as Giant's Causeway, impressive round towers on Devenish Island, and authentic Irish heritage sites. It's a journey not to be hurried. Every twist and turn in the road will reveal new sights, well placed stopping points, offering uninterrupted views to Scotland on one side and tall limestone cliffs dissected by beautiful glens on the other.
Day 1: DEPART FROM HOME
Your vacation begins the moment you board your flight. Destination: NORTHERN IRELAND.
Day 2: BELFAST - THE PEACE ACCORD
Your destination is the capital of Northern Ireland. Belfast will surprise you! Belfast is a Victorian city built on the linen and shipbuilding trades. The ill-fated Titanic whose construction here in 1911 is still a source of civic pride and the subject of jokes. "Well mate," goes the saying, "She was all right when she left here." This cosmopolitan city still manages to keep its charm. On our panoramic tour, one of the sights you will see is Hillsborough Castle through its splendid wrought iron gates. Here the Good Friday Agreement was negotiated, agreed & signed as roadmap for peace, political stability and economic progress. Visit the authentic 19th century Crown Liquor Saloon, a restored national landmark, or the colorful Botanic Gardens.
The Universal Pictures made movie, "Your Highness" was made in Northern Ireland, at Ballygalley, County Antrim, Northern Ireland, UK Belfast, County Antrim, Northern Ireland, UK Castle Ward, Strangford, County Down, Clandeboye Estate, Bangor, County Down, Harland and Wolff Paint Hall, Titanic-Quarter, Belfast, County Antrim. It will star Natalie Portman, Zooey Deschanel, James Franco and Damian Lewis. It's due to open in the U.S. in April 2011. When Prince Fabious's bride is kidnapped, he goes on a quest to rescue her... accompanied by his lazy useless brother Thadeous.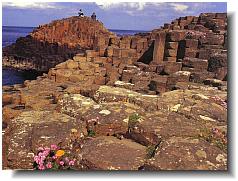 Day 3: GLENS OF ANTRIM/GIANT'S CAUSEWAY/PORTRUSH
Travel along the Antrim Coast Road, widely agreed to be one of the finest stretches of road anywhere in the world, hugging the coast line giving incredible views.  See the Carrick a Rede Rope Bridge – where you can of course cross the bridge which spans a chasm over 75ft in height.  Visit the strange natural phenomenon at Giant's Causeway, before a welcome drink at the Bushmill's Distillery, which has been creating beautiful 'water of life'  since 1608 making this the oldest working distillery in Ireland. (B)
Day 4: DERRY/OMAGH/ ENNISKILLEN
Entering the city of Londonderry, you will view the most notable and historic feature of the city – the Walls, the most complete city walls in Europe. They rise to a height of 26 feet and in places are 30 feet wide. Almost a mile in circumference, they form a cobbled walkway around the city and provide a unique promenade towering above the city streets. Your guide will lead you on a walk (approximately 45 minutes) along the broad expanse of the walls. Visit the Victorian 1890 Guildhall, with it's impressive stained glass windows. Derry was also where Amelia Earhart touched down, after her historic solo flight across the Atlantic. Next, pass small farm villages within sight of the bare Sperrin Mountains as you travel to the Ulster American Folk Park. Here, you book passage on a ship bound for America and emerge in a recreated Irish village of long ago. (B)
The oldest legal distillery in the world is at Bushmills, having been granted its licence in 1608 by King James I is still distilling and giving guided tours.
Day 5: BELLEEK/DEVENISH EXCURSION
Visit the Belleek Pottery, producers of fine porcelain tastelfully decorated with shamrocks or delicate trellis-like plates. Magnificent lake views abound on the ancient monastic site of Devenish Island, Ireland's best example of a round tower. Return to Enniskillen, with its old world style pubs and Georgian brick buildings. (B)
Day 6: ARMAGH/TEMPLEPATRICK
Discover the ancient ecclesiastical city of Armagh, the home to both Protestant and Catholic cathedrals. The Transport Museum, one of the finest in Europe, displays Ireland's largest and most comprehensive transport collection, from horse-drawn carts to Irish built motor cars, and from the mighty steam locomotives that graced our railways to the history of ship and aircraft building. OPTIONAL:
At Armagh Cider Company we are very pleased to be able to say that all our products are made 'from blossom to bottle' on the home farm at Ballinteggart, just outside Portadown in Co Armagh. To emphasize this, we welcome groups to our farm to experience the whole process of cider making - 'from blossom to bottle' A tour of our cidery will give you an insight into our orchards as well as an opportunity to see first-hand where the cider and apple juices are made.  You will have the opportunity to taste and compare all our products. (B)


Day 7: ARDS PENINSULA/ DOWNPATRICK/NEWCASTLE
Travel the Ards Peninsula to join the ferry at picturesque Portaferry. Downpatrick Cathedral, burial site of St. Patrick is next. Here, Ireland's Patron Saint's story is told in his own words giving visitors a real understanding of earlyChristianity in Ireland. One surprise for visitors is that during a multi-media presentation, Dr. Ian Paisley's voice can be heard. Our destination is Newcastle, nestled under the Mourne mountains. The mountains of Mourne really do "sweep down to the sea" as Percy French wrote. Optional: RATED THIRD BEST GOLF COURSE IN THE WORLD Par 71 - Links, 6,692 yds. The legendary Tom Morris laid out this course and it has been described as "a golfing feast of banqueting proportions." The golfing experience at Royal County Down is often bittersweet. While its location beneath the spectacular Mountains of Mourne may earn it the title of the most beautiful links in the world, it is without a doubt one of the toughest. Founded 1889.
OPTIONAL: Established 1996 on the third generation family farm amidst the spectacular Mourne Mountain range in the north of Ireland, Whitewater Brewery still retains the passion and desire to brew beers with fantastic flavors. Please note that we are a working Brewery and the tour takes you right into the heart of the brewhouse. There may be some water on the floor and our Brewery team may be working around you. Production is not guaranteed on your visit. (B)


Famous People from the NorthTo name but a few we have on the big screen a big presence led by Liam Neeson, Kenneth Branagh, Stephen Rea, Roma Downey, Formula One driver Eddie Irvine, motorcycling hero Joey Dunlop. Northern Ireland has produced a wealth of writers, among others Brian Friel and C S Lewis, the Christian writer of the hugely popular children's stories who was born in East Belfast. Our writing talent is also on display through Nobel Laureate Seamus Heaney, born on a farm near Bellaghy, and Oscar Wilde and Samuel Beckett who both went to school in Enniskillen. We have an abundance of musical talent and have produced such greats as Van Morrison, James Galway, Phil Coulter.
Day 8: HOMEWARD FROM BELFAST
Board your return flight to the U.S.A., with many happy memories of your Northern Ireland adventure. PLEASE NOTE: This tour will return to Belfast Airport. (B)
Northern Ireland Tour Includes:
Private car, limo or minibus with driver/guide throughout. Your driver is a local and will do commentary.
First-class accommodations for 6 nights; room with private bath
6 hearty Irish breakfasts (B)
All taxes and service charges
All sightseeing and entrance fees Some highlights:
Crown Liquor Saloon
Belfast Botanic Garden
Belleek China Factory
Ulster American Folk Park
Devenish Island
Bushmill's Distillery
Derry Guildhall
Giant's Causeway
Carrick a Rede Rope Bridge
Ferry to Portaferry
St. Patrick's Center
Ulster Transport Museum
Passport Case with "What You Need To Know Before You Go"
Belfast- Jurys Inn (1 night)
Portrush-Ramada or Bayview (1 night)
Enniskillen - Killyhevlin or Manor House(2 nights)
Templepatrick - Hilton or Dunadry (1 night)
Ask for 2023 prices
Please Email Us For Information
Call 1-800-221-2474 9AM - 5PM Mon-Fri Eastern Time