Scots Irish Coach Tour - 11 day tour of Scotland and Tour of Ireland
Tour the glorious scenery of the Scottish Highlands, visit the main cities of Glasgow and Edinburgh before taking a ferry to Northern Ireland Ulster Scots Tour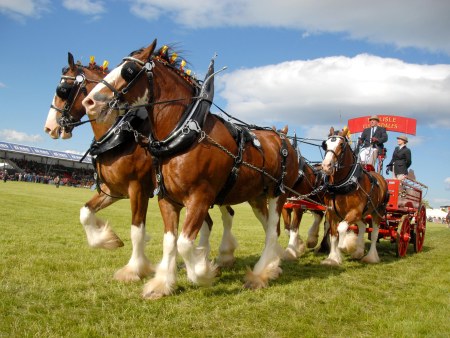 Pub Dinner in Edinburgh - Bunratty Castle Banquet Bunratty Castle Medieval Banquet - Royal Yacht Britannia - Isle of Skye Isle of Skye - Giant's Causeway - Cliffs of Moher - Kilronan Castle Hotel Stay & Dinner
Are you Scots Irish?
A few departures on this tour have a senior discount available. Please ask for details. Cannot be combined with other discounts or offers
Scots Irish Coach Tour Itinerary
Day 1:Edinburgh & Royal Yacht Britannia

Your Scottish trip starts at 2:00 pm from your hotel, located on two golf courses a few miles from the city center. Drive to Leith for a tour around the Royal Yacht Britannia, the floating home of The Queen on many of her travels around the world. See the various parts of the ship, including staterooms and public spaces, together with photos of important visits. Return to your hotel for a welcome drink with your tour director and you are free for independent dining this evening.
Day 2:Edinburgh Castle & City Tour

This morning tour Edinburgh to compare and contrast the wide streets and elegant mansions of the Georgian 200-year-old "New Town" and Princes Street with the medieval Royal Mile. Walk along part of the Royal Mile to view narrow lanes and townhouses, some of which are 11 stories tall. Visit Edinburgh Castle, which contains the Scottish Crown Jewels and the Stone of Scone. The balance of the day is free. Dine at a Scottish Evening and enjoy a lively show with songs, stories and traditional dancing. On Aug 07 to 23 departures attend the Royal Edinburgh Military Tattoo at Edinburgh Castle. (B, D)
Day 3:St. Andrews & highland Scenery

Travel north to St Andrews, famous for golfing and Scotland's oldest university. Take a walking tour around the town with your tour director who will tell you about the famous people and happenings here. Visit the picturesque ruins of St Andrews Cathedral. Take a break in Pitlochry and continue through majestic Highland scenery to your hotel in Inverness (Sun departures) or Nairn (Tue departures). (B, D) From the Irish Times: (About Irish in the USA) A second surprise followed with publication of a number of opinion polls which revealed that
a majority of those who indicated an Irish background were Protestant and not Catholic
, as had been widely assumed. For example, a survey by Gallup in the 1980s put the proportion of Protestants at 54 per cent. Another explanation is that these figures of Irish with a Protestant background include descendants of people who were Catholic. Several historians have argued that numbers for the Irish in the 18th-century American colonies include Catholics, who became Protestant because there were very weak Catholic Church structures.
During the 19th and 20th centuries, in predominantly Protestant America, people from a Catholic background became Protestant.
A good example was Ronald Reagan whose father was from an Irish Catholic background, but who followed the Protestant faith of his mother.
Day 4:Isle of Skye & Clan Donald Centre
Drive alongside Loch Ness and enjoy views of this deep lake, famous for tales of the monster. Continue through wild Highland scenery, pausing for photos at the picturesque Eilean Donan Castle and cross to the Isle of Skye by bridge. Drive through part of the island and visit the Clan Donald Centre at Armadale Castle to discover the history of the powerful Lords of the Isles. Return to the mainland by ferry and take the "Road to the Isles" through some of Scotland's most popular scenery, stopping for photos at the Glenfinnan Monument. (B, D)

Day 5:Glen Coe & Rabbie Burns
This morning enjoy final views of the magnificent Highlands as you drive south through the awesome peaks of Glen Coe and alongside the lovely shores of Loch Lomond. Stop briefly in Alloway to visit the Robert Burns Birthplace Museum. He is widely regarded as the national poet of Scotland and is celebrated worldwide as a pioneer of the Romantic movement. He is the best known of the poets who have written in the Scots language. Travel along the coast to Cairnryan for a short ferry ride to Belfast. Check into your hotel where dinner is served. (B, D)
Day 6:Titanic Belfast & Ulster Folk Park

This morning take a gentle walk around central Belfast to see the imposing City Hall in Donegall Square and the shipyards where RMS Titanic was built in 1912. Visit Titanic Belfast to learn about this famous liner through state-of-the-art displays. Browse around the city on your own in the afternoon and in the evening visit the Ulster Folk Park for a fun country-style dinner and traditional music. (B, D)
(B,L)
Day 7:Giant's Causeway & Derry's Walls

Drive along the scenic route of the Nine Glens of Antrim, for views of mountains, valleys and coastline. Stop at the Giant's Causeway, enormous hexagonal columns formed by volcanic activity 60 million years ago which have spawned legends about the mythical giant, Finn McCool. In Derry join a local guide for a short walking tour around the defensive walls of the compact city before driving to Letterkenny. (B, D)

Day 8:Glenveagh National Park & Kilronan Castle

Travel to Glenveagh National Park where Captain Adair built Glenveagh Castle in 1870. Learn about the history of the mansion on a guided tour and walk around the extensive gardens filled with exotic plants. Stop in Donegal town for a look around on your own and enjoy some lunch. Continue to Kilronan Castle for a 2-night stay and relax in the great setting. (B, D
Day 9:Enniskillen Castle & Boyle Abbey

Drive north this morning to Enniskillen, strategically situated on the banks of the picturesque River Erne. Tour Enniskillen Castle, which was once the home of the Gaelic Maguire chieftains and represents an important part of Fermanagh's rich history and heritage. Enjoy a casual lunch and then take a stroll around the beautiful ruins of Boyle Abbey, an early Cistercian community founded in the 12th century. Return to your castle hotel to relax in the afternoon. (B, L)>
Day 10:Cliffs of Moher & Bunratty Banquet

Head to Galway city for a walking tour with a local guide to see medieval city walls, Lynch's Castle and Eyre Square. Drive through the Burren to view the Cliffs of Moher, a dramatic wall of rock that plunges to the Atlantic Ocean. Check in to your hotel in Ennis and in the evening head to 15th century Knappogue Castle for a fun medieval-style banquet. (B, D)
Day 11:Tour Ends Shannon Airport

Your tour ends after breakfast. (B)

B: Breakfast; L: Lunch; D: Dinner

Tour Includes:
GROUP AIRPORT TRANSFERS
When we book your flights together with a coach tour, we include complimentary group transfers on the starting and ending date of tours at times specified on each itinerary-a $30 per person fee applies to land only bookings.
Sightseeing by luxury coach throughout
Services of professional driver/guides
Superior & first class hotels with private bath/shower for 10 nights
Full Scottish & Irish breakfast daily (B) except day 1
Welcome get-together drink
8 dinners (D) including: - Scottish Evening in Edinburgh - Ulster Folk Park Evening - Knappogue Castle Medieval Banquet - 5 table d'hote dinners
Tours of Edinburgh with a local guide
Reserved seats for Royal Edinburgh Military Tattoo on August 7 to 23 departures
Ferry from Isle of Skye and from Scotland to Ireland
Walking tours of Belfast, Derry and Galway with local guides
Rathbaun Farm sheepdog trials with tea and scones
Visits and admissions toRoyal Yacht Britannia, Edinburgh Castle, St Andrews Cathedral, Clan Donald Centre at Armadale Castle, Robert Burns Birthplace Museum, Titanic Belfast, Giant's Causeway, Glenveagh Castle & National Park, Enniskillen Castle, Boyle Abbey and Cliffs of Moher
Headsets for walking tours
Deluxe carry-on backpack, ticket wallet, luggage tags & strap
All local taxes, hotel service charges & porterage for one suitcase per person
Free Wi-Fi on coach and in hotel lobbies
Superior First Class Hotels:
Marriott Dalmahoy Hotel Edinburgh (2 nights)

Columba Hotel Inverness (Sunday Departure) or

Newton Hotel Nairn (Tuesday Departure) (1 night)

Isles of Glencoe Hotel

Ballachulish Isles of Glencoe Hotel (1 night)

Europa Hotel Belfast (2 nights)

Station House Hotel Letterkenny Letterkenny (1 night)

Kilronan Castle Ballyfarnon (2 nights)

Temple Gate Hotel Ennis (1 night)
Price per person sharing a twin or triple room. ONLY ONE TRIPLE ROOM IS AVAILABLE PER DEPARTURE - BOOK EARLY. Save 10% per person on coach land tour prices if you 8 & under 18 and traveling with at least one full fare paying passenger. Airfare is available from many cities. Just ask.
| | |
| --- | --- |
| March 31, 2019 | 2,499 |
| April 7, 2019 | 2,549 |
| April 14, 2019 | 2,649 |
| April 21, 2019 | 3,199 |
| April 23, 2019 | 2,699 |
| April 28, 2019 | 2,949 |
| May 5, 2019 | 2,899 |
| May 7, 2019 | 2,999 |
| May 12, 2019 | 3,549 |
| May 19, 2019 | 3,099 |
| May 21, 2019 | 3,099 |
| May 26, 2019 | 3,099 |
| June 2, 2019 | 3,099 |
| June 4, 2019 | 3,099 |
| June 9, 2019 | 3,099 |
| June 16, 2019 | 3,649 |
| June 18, 2019 | 3,099 |
| June 23, 2019 | 3,099 |
| June 30, 2019 | 3,099 |
| July 2, 2019 | 3,099 |
| July 7, 2019 | 3,099 |
| July 9, 2019 | 3,149 |
| July 14, 2019 | 3,699 |
| July 16, 2019 | 3,149 |
| July 21, 2019 | 3,149 |
| July 23, 2019 | 3,199 |
| July 28, 2019 | 3,199 |
| July 30, 2019 | 3,199 |
| August 4, 2019 | 3,699 |
| August 6, 2019 | 3,699 |
| August 11, 2019 | 3,699 |
| August 13, 2019 | 3,699 |
| August 18, 2019 | 3,699 |
| August 20, 2019 | 3,699 |
| August 25, 2019 | 3,449 |
| August 27, 2019 | 3,399 |
| September 1, 2019 | 3,349 |
| September 3, 2019 | 3,299 |
| September 8, 2019 | 3,299 |
| September 10, 2019 | 3,249 |
| September 15, 2019 | 3,199 |
| September 17, 2019 | 3,749 |
| September 22, 2019 | 3,049 |
| September 24, 2019 | 2,949 |
| September 29, 2019 | 2,749 |
| October 1, 2019 | 2,849 |
| October 6, 2019 | 2,749 |
| October 8, 2019 | 2,749 |
| October 13, 2019 | 3,299 |
| October 20, 2019 | 2,649 |
Single room supplement: $770
Questions? Contact Lynott Tours, your Scotland travel agents at 1 (800) 221-2474USA & Canada

Please Email Us For Information
. Cancellation Penalties: Airfare up to 100%; Land: : Penalties per person apply: 70 days or longer: Forfeiture of deposit 69 - 46 days: 35% per person 45 - 8 days: 45% per person 7 - 1 days: 60% per person, On day of departure: 100% per person Travel Insurance from $60