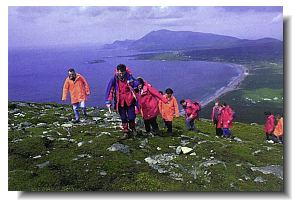 Tips for Solo Travelers - Lynott Tours - Ireland & Northern Ireland - Solos Tour of Ireland
Would you like to see Ireland, or Great Britain but don't know anyone who else wants to go? We have a travel ideas to help you make a choice for what Ireland trip is best for you. Here are a few solo traveler suggestions:
Looking for something to do over Christmas or New Year's? Then try one of our festive walking tours in England, Scotland or Wales. Your own room, but plenty of other guests to socialize with.
Special Offer for Solo Travelers Use Coupon Code SOLO19 to save an additional $50 on regularly scheduled departures on our larger Ireland and Britain tours!

For the active: Walking Tour of Ireland - walk on ancient paths

Group Size: Explore Ireland, traveling with a mix of 8-14 English-speaking international travelers. Each walking day we hike 8- 13 miles and the maximum height is 2000 Feet. The routes are relatively free of traffic. The terrain varies by region, from easy to more difficult. You need only walk as far as you want each day. When you walk, there's time to smell the roses, or more likely, the scent of peat fires in the air.


Traveling alone?
Some people do not take an active vacation because they find themselves in the position of having to travel alone. What they usually don't know is that many active people travel alone. Our walkers may be tired at the end of the day but they will never be alone. The people in your group share your sense of adventure and exploration - they are as interested in meeting you, as you are interested in meeting them. There is NO additional supplement or those willing to share a two-bedded room with someone of the same sex. If you require a room on your own — there will be an additional supplement charged.
Irish Walking

British Walking: Solos are ALWAYS welcome on our tours, and these departures are specifically geared toward single travelers: Single Supplement are low.


LOW SINGLE SUPPLEMENT ON SOME WALKING, LITERATURE AND GARDEN TOURS:




Bike Holidays in Ireland

Our idea is to take all of the hassles, but none of the freedom out of a bike trip in Ireland. Travel with a small group. Bike at your own pace. We meet up at lunch at a pub to regroup, and again at the end of the day at dinner. More


Day Tours from London, Edinburgh and Dublin

Do you like spending time alone, but like the camaraderie of traveling together with a group on day tours? Have a few days to spare after an overseas business trip? Then, our tours to Cork, Blarney and more from Dublin, or the Scottish Highlands from Edinburgh are you you.
Loch Ness & The Highlands 1-day tour
Cork, Blarney Castle, The Ring of Kerry, and the Dingle Peninsula
Day trip to Northern Ireland The Giant's Causeway Glens of Antrim and Wild Atlantic Coast
London sightseeing tours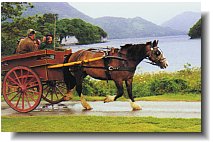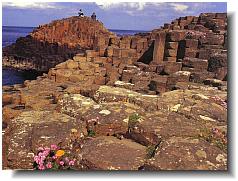 Do something you love:
Garden Tours If you have always promised yourself that "someday" you would find the right way to explore the beautiful countryside, historic towns and picturesque villages of England, that day has come. Low single supplement on some tours.
Literary Tours Fellow tour members include those with an interest in literature, whether would-be writers or readers who want to see what their favorite writers look and sound like. Low single supplement
Please Email Us For Information Call 1-800-221-2474 9AM - 5PM Mon-Fri Eastern Time