Chelsea Flower Show & Garden Tours of Great Britain

England - United Kingdom- Guided British Garden Tours
English garden tours are available for small groups and individuals


2016 CHELSEA GARDEN TOUR AND NATIONAL TRUST GARDENS WITH TICKETS TO THE CHELSEA FLOWER SHOW This small group tour is always a sell-out.

2016 Chelsea Flower Show Tour May 22-28, 2016

RHS (Royal Horticultural Society) has announced the dates for the 2016 Chelsea Flower Show Tickets at Royal Hospital, Chelsea . The Chelsea Flower Show heralds the arrival of summer and the beginning the fashionable 'Summer Season.' This unique event is lovingly prepared by the country's leading horticulturists transforming several acres into an extraordinary vista of gardens. Thousands of trade stands add to the interest making it the biggest garden centre in the world.
Call 1-800-221-2474   9AM - 5PM or Please Email Us For Information


Treat your senses to the truly fantastic array of sights and smells around Great Britain's gardens, from grand designs attached to stately homes to the secret delights in the Cotswolds, Bath, Somerset and London. You don't need to know a lot, because the tours are relaxed, very sociable affairs that you can enjoy at any level.

GUARANTEED SMALL TOUR
This beautiful, garden-filled 7 -day tour is still very popular with gardeners and those who just like to look at gardens, alike. What better way to see the lovely gardens of the National Trust than in the comfort of a motorcoach with garden enthusiasts at your side? Why not let Lynott put together an inspiring vacation for you?

GUARANTEED SMALL TOUR - THIS TOUR IS LIMITED TO 12 PERSONS DATES May 22-28, 2016 Book now for 2016 - dates Chelsea Flower Show & National Trust Gardens Tour:

Chelsea Flower Show has been the world's leading horticultural event since the first show in 1913 when gardeners from the large private estates created brilliant displays. Today, you will be able to marvel at an international collection of magnificent blooms and perfect specimen trees alongside an astonishing range of exhibition gardens. The Grand Marquee contains over 3 acres of plants and flowers of every description, smaller tents are devoted to floral art and garden design, while the full scale gardens are outside. Whether you go for inspiration, or gardening advice, the Chelsea Flower Show is an unforgettable experience.

In addition to the Flower Show, our tour visits the gardens of Cotswolds, Bath, Somerset  and London.

Day 1 London - Somerset Arrive at Heathrow by 1000AM for your transfer to Somerset. Montacute is a glittering Elizabethan mansion, with its towering walls of glass, glow of ham stone, and gardens. It is a place of beauty and wonder. Scenes from the BBC drama series Wolf Hall were filmed here last year. See Stembridge Tower Mill, the last remaining thatched windmill in England, and Georgian gardens at Prior Park.  An intimate 18th-century landscape garden created in a valley on the edge of Bath with sweeping panoramic views of the city. The park is famous for having one of only 3 surviving Palladian bridges in the country (and one of only four in the world), complete with 18th and 19th century graffiti. However, there is more, including a wilderness, grotto and cascade.
Day 2 Stourhead & Jane Austen's Bath
 The world famous gardens at Stourhead were created by the banker Sir Henry Hoare II as a reaction against the formal gardens of the 17th century. Here, the natural style of the landscape was inspired by the paintings of classical view collected on the Grand Tour of Europe. Centred around a large lake, the park is punctuated with classical temples and a subterranean grotto inhabited by a nymph and a river god.
Visit Jane Austen's Bath.  The Assembly Rooms were at the heart of fashionable Georgian society, the perfect venue for entertainment. When completed in 1771, they were described as 'the most noble and elegant of any in the kingdom'. The Fashion Museum (Bath & North East Somerset Council) is on lower ground floor<.
Day 3 Hidcote, Cotswolds
Hidcote, Gloucestershire
A mecca for garden lovers, Hidcote Manor was created from 1907 onwards by Lawrence Johnston, an American who not only had a great love of plants but the vision to establish a beautiful garden in which to grow them. The garden is composed of a series of outdoor rooms each with its own character, ranging from formal and restrained to naturalistic. Color is carefully considered and under our care from the middle of the 20th century this has been developed resulting in a white garden and the famous twin red borders.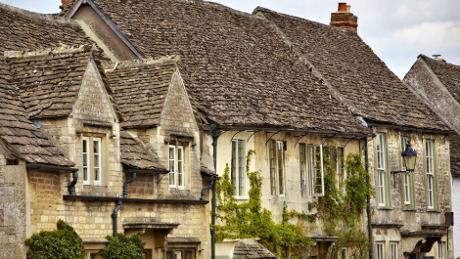 Day 4 Lacock village is famous for its picturesque streets, historic buildings and more recently as a TV and film location.  The Abbey, located at the heart of the village within its own woodland grounds, is a quirky country house of various architectural styles, built upon the foundations of a former nunnery. Visitors can experience the atmosphere of the medieval rooms and cloister court, giving a sense of the Abbey's monastic past.
Avebury is one of the most important megalithic monuments in Europe and is one of England's most spiritual places.
At Avebury, the world's largest prehistoric stone circle partially encompasses a pretty village.  Avebury Manor, Wiltshire - Parts of the Manor are believed to date back to the 12th-century Benedictine priory.  Lacock village is famous for its picturesque streets, historic buildings and more recently as a TV and film location.
Day 5
London Kew Gardens There are over 100 world-class attractions to enjoy at Kew Gardens, from iconic buildings and glasshouses to inspirational gardens and landscapes. Discover 250 years of history at the world's most famous Gardens. Wander through Kew's varied gardens, each specially planted and themed to give a different impression and a unique experience.

Day 6 THE CHELSEA FLOWER SHOW
You have a full day to explore the show. Getting there early will give you time to see the show and perhaps to leave in mid-afternoon to do some final last minute shopping at nearby Harrods. (CB)
Day 7
LONDON
Travel home or extend your stay. We suggest the Heathrow Express for your homeward transfer (not included in the price). (CB)
YOUR COACH TOUR PRICE INCLUDES:
Arrival group airport transfer from Heathrow.
Deluxe private motorcoach transportation for all touring outside of London.
Services of a driver/guide.
Hotel accommodation with private bath.
Your 4 star hotels or similar
Bath - Hilton 2 nights
Cotswolds - Lygon Arms Hotel 1 night
Salisbury - Red Lion 1 night
London - Radisson Blu 2 nights
Full breakfast daily (continental in London)
ENJOY A YEAR LONG MEMBERSHIP TO THE ROYAL HORTICULTURAL SOCIETY (an $80 value)! when you book by December 28.
Admission charges and entrance fees to: London - Chelsea Garden Show Royal Botanic Gardens at Kew, and gardens shown
Scenic drives through villages
Tips to bellmen for one bag per person at all hotels.
All taxes and service charges.
Prices shown below are for individuals. Ask for prices for your group of 6 or more.
Call 1-800-221-2474   9AM - 6PM or Please Email Us For Information
 Rates per person USD
Twin
          $2990
Sold Out
Ask about
private
tours
Triple rooms are available on some tours at the same price per person as a twin room. This may not be comfortable for three adults.
Extra nights in London at the conclusion of the tour are available at a cost of: Per person Twin $200; Single $300
ADDED BONUS:

Book the Chelsea Flower Show tour before December 28 and get a full year membership in the Royal Horticultural Society, with a free year of their marvelous magazine, too!
Please Note: Because of the impossibility of knowing a year in advance exactly what the state of any garden will be we reserve the right to visit alternative gardens to those listed following up to date advice from local guides. This policy ensures that clients only see those gardens which are in their prime at the time of the tour.


Our Garden tours can be customized for each individual group of 8 or more. Some suggestions: In designing garden tours, we aim for a mixture of garden design as well as interesting historical associations of people and places. Amateur photographers have great opportunities to practice their skills on famous architectural sights and country scenes. Visits are interspersed with free time to pursue your own interests such as shopping and sightseeing.


BOOK NOW! THESE TOURS SELL OUT EARLY!
Price per person sharing a twin room. Airfare and other arrangements are available.
Accommodation
We have carefully selected a mixture of comfortable 3/4/5 star country house/hotel accommodation those which are more comfortable with private bath. The settings are varied, illustrating the surrounding beauty and diversity of the countryside.
You may combine garden tours with our other programs to form a longer vacation. Airfare and transfers are also available.

Tour Size/Guides Tour sizes vary, but operate with a minimum of 6 guests - virtually guaranteeing that all tours will operate. Numbers will normally be limited to ensure that the group remains small and personal.

Please Email Us For Information

Call 1-800-221-2474 9AM - 5PM Mon-Fri Eastern Time




Call 1-800-221-2474 9AM - 5PM Mon-Fri Eastern Time or (516) 248-2042 outside USA/Canada
Although we have provided as much information as possible on our website, we are happy to answer your questions directly on the phone. Sometimes, it is just easier to speak to one of us. We are awaiting your call.