Literary Tours of England - Escorted Great Britain - England - United Kingdom
Literature lovers and bookworms will be tempted to indulge their interest our Literary Tours of England, guided by enthusiastic experts and set in lovely country houses in some outstandingly scenic areas. Fellow tour members include those with an interest in literature, whether would-be writers or readers who want to see what their favorite writers look and sound like. You need no prior knowledge to enjoy this trip, but do need a love of words.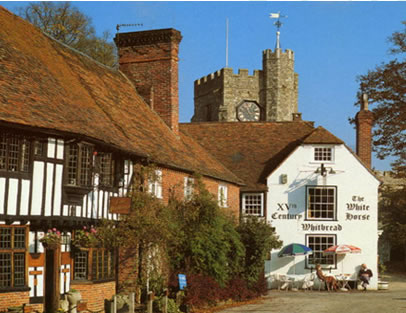 Travel through some of the UK's prettiest landscapes, visiting author's homes, literary museums, towns and villages where stories are set, and places that obviously inspired the writer.
Our prices hide nothing and represent remarkable value for money - we include 3 meals a day, accommodation and include any transport but you will probably want to spend on tickets for extra events at the literature festivals.
What's Included:

Accommodations, including private bath/shower.
Breakfast, dinner and afternoon tea daily.
Full time guide
Transport to and from your events.
All taxes (Value Added Tax V.A.T.)
Train transfers are available from all major cities at an additional cost. Train tickets cannot be confirmed until 90 days before departure. Plan to arrive after 12 noon.
All prices are in US dollars
, based on twin or triple occupancy. A few single rooms are available. Book early.
Literary Dorset, Southern England Heritage & Literary Tours including Thomas Hardy
Explore the life and works of Thomas Hardy Discover the setting for other famous works, including John Fowles 'French Lieutenant's Woman'
Holiday highlights Explore the life and works of Thomas Hardy Discover settings for other famous works such as John Fowles' French Lieutenant's Woman Receive your own copy of the Poetry Anthology, specially compiled for this holiday Short walks each day of up to 2 miles to explore these literary connections Optional free-day excursion on the Swanage Steam Railway and boat trip to Brownsea Island – prebookable at $50
Lulworth Cove Lulworth Mill House, named after the mill that once stood on the site, is located in the village of West Lulworth. It's just a minute's walk from the famous Lulworth Cove and has views down to the beautiful Dorset coast.
| | | | |
| --- | --- | --- | --- |
| Date | Description | Nights | USD |
| 22-Apr-16 | Literary Dorset - Lulworth Lodge | 7 | $1,648 |
single supplement $20 per night.

Charles Dickens – his life and works

On this short literary exploration of Charles Dickens we'll focus on two of his works and relevant locations; Nicholas Nickleby and Portsmouth where we'll learn about the murder in chapter 22 and we'll read the opening chapter of Great Expectations at Cooling church. On the four night holiday we'll have the extra highlight of Dombey & Son and Brighton Holiday highlights Visit Charles Dickens Birthplace Museum in Portsmouth See the Highland Road historic cemetery in Portsmouth – burial place of Ellen Terney, Dickens' lover Explore Rochester, inspiration for many of Dicken's works and characters Soak up the atmosphere of St James Church, Cooling where Pip meets Magwitch the convict in Great Expectations,

Nestled at the foot of the South Downs, Abingworth Hall is ideally located for a short break or a longer holiday. A peaceful ambiance and excellent facilities make it a relaxing place to stay.
| | | | |
| --- | --- | --- | --- |
| Date | Description | Nights | Price USD |
| 20-Jun-16 | Charles Dickens - Life And Works - Abingworth | 4 | 1139 |
single supplement $20 per night.
Jane Austen - her life and times
Explore some of the places associated with Jane Austen. Begin by visiting the house where she lived for the last 8 years of her life and where she wrote some of her most popular novels. Also visit Winchester, where she was buried.
Listen to a reading from Emma whilst taking in stunning views from Box Hill
Visit Jane Austen's house at Chawton
Tour the city of Winchester
Stay at Abingworth

"Warm welcome and excellent food",Sue Pemberton  

Nestled at the foot of the South Downs, Abingworth Hall is ideally located for a short break or a longer holiday. A peaceful ambiance and excellent facilities make it a relaxing place to stay.
| | | | |
| --- | --- | --- | --- |
| Date | Description | Nights | USD |
| 17-Jun-16 | Jane Austen - Life And Times - Abingworth | 3 | $880 |
The Brontës Literature and Countryside Unspoiled dramatic moors to old industrial valleys. The dramatic moorland inspired the Bronte Sisters to pen novels which are classics of English literature.

Patrick Brontë found himself widowed in a remote corner of the Pennines, with six children to bring up, four of them showed marks of genius, and the three girls, Charlotte, Emily and Anne, became published authors whose works are avidly read today.

The Brontes were an intensely close-knit family and their parsonage home formed the heart of their world from early childhood until the ends of their brief lives. We offer an introduction to the family through visits to sites connected with them including Thornton, the Parsonage and Brontë Museum at Haworth, the Red House used as a model in Shirley, Wycoller, Norton Conyers Hall, Cowan Bridge School and Tunstall Church.

Imagine the everyday lives of the Bronte Sisters as you walk round Haworth Church and the Bronte Parsonage Museum. The cobbled Main Street in Haworth has a host of specialist shops. Discover antique books, paintings & tearooms, hotels (including the "Black Bull" - where Branwell Bronte's demise into alcoholism and opium addiction allegedly began). Many public footpaths lead out of the village, and there is much scope for rambling, though perhaps the most famous walk leads past Lower Laithe Reservoir to the picturesque (but unspectacular) Bronte Falls, the Bronte Bridge, and the Bronte Stone Chair in which (it is said) the sisters took turns to sit and write their first stories.

Holiday highlights: •Visit to the Haworth Parsonage where the Brontë children grew up •See the fascinating Red House, home to Charlotte's great friend and early feminist Mary Taylor •The wild moorland scenery we pass above Haworth evokes the settings of their novels, especially Wuthering Heights •Evening talks covering some of the lesser known Brontë works, such as Shirley and Agnes Grey What's included: •Full-day coach excursions with all admissions to places of interest included •A knowledgeable leader accompanies the tour •Comfortable en-suite bedrooms at our 3 or 4-star Country Houses •Full Board accommodation with all meals included The Brontë story is one of enduring fascination. The Rev Patrick Brontë came from an Irish rural background, graduated from Cambridge, took orders in the Church of England, and at the age of 44 found himself a widower in the parish of Haworth in Yorkshire, with six children to bring up. Two children died young and the remaining four all showed remarkable literary talents, although the career of Branwell, the only son, was marred by wasted opportunity. Charlotte, Emily and Anne became published authors in their twenties. Your holiday is designed to be an introduction to this talented family through visits to sites connected with them and their circle.

Day 1: Arrival day. Your room will be available from 2.30pm onwards. Please join us for tea between 4pm and 5pm to meet the leader and your fellow guests. Before dinner there will be a brief introduction to the holiday programme.

Day 2: We visit Haworth to see the atmospheric parsonage and town where the Brontës grew up. In the afternoon we travel to Wycoller to see the ruined hall which may be the inspiration for Ferndean in Jane Eyre. We return to Malhamdale passing by East Riddlesden Hall which was used in the recent ITV film of Wuthering Heights.

Day 3: We travel to Thornton, the Brontës birthplace, then on to The Red House, Gomersal, followed by Oakwell Hall, Birstall, which both feature in Shirley. In the afternoon we stop at St Peter's Church in Hartshead near the scene of the Luddite riots in 1812 when Patrick Brontë was curate there.

Day 4: Depart after breakfast.

An optional Wuthering Heights walk will add another dimension. There will be a program of evening talks on the Brontës and their works. Stay at: Newfield Hall,

You will get most from the holiday if you read Wuthering Heights and Jane Eyre or any of the Brontës novels in advance, but this is not critical.
No deparures planned for 2016.

The Life and Works of Agatha Christie
Agatha Christie wrote her very first novel The Mysterious Affair at Styles whilst enjoying a stay at our Moorlands House at Haytor in 1916. During this holiday we'll visit Greenway, her holiday home on the River Dart, take a ride on the steam railway between Paignton and Kingswear, and visit Torquay where she was born and grew up, and first heard the name Hercule Poirot. Holiday Highlights: Visit Greenway, the holiday home of Agatha Christie and her family A ride on the Paignton steam railway, one of the finest steam railways in the world Visit Torquay, birthplace of Agatha Christie and walk along the Agatha Christie mile.

Moorlands is a fine Country House, situated high on the moor below the famous Haytor Rocks, one of Dartmoor's best-known landmarks. It was in this magnificent setting that Agatha Christie wrote her first book, The Mysterious Affair at Styles, in 1916.
No deparures planned for 2016.
Are you a fan of P.D. James or another author not named here? Ask about a special tour tailored to your needs.

What's included in all of these programs:
O Transfers ARE NOT included, but we can book these for you by rail from London to the closest town, at added cost.
O Literary tour
O Accommodations , including private bath/shower. Extra nights may be available.
O Breakfast, dinner and afternoon tea daily. Picnic lunches on some days. We are always able to cater for vegetarian diets
O Full time guide
O Transport to and from your tour each day, if needed.
O All taxes (Value Added Tax VAT)
Are tea and coffee making facilities available? At our own Country House accommodation, these are provided FREE in your bedroom, and often in the public lounges.
Do the hotels have laundry rooms? Our own Country House accommodation have dedicated laundry rooms and drying rooms.
Special Offers for Solos
A great deal for single guests save on our twin for single occupancy bedrooms are often in demand. So if you haven't reserved your single room yet, why not guarantee your place?
Discounts are available for children
when sharing with one or more adults in a family room: Under 4's FREE 4-17 years 50% off adult rate (20 May to 1 September) 4-17 years 60% off adult rate (All other dates)
Not all areas are available at other times of year.
Jane Austen, Beatrix Potter & the Brontes
Planning a group tour?
Ask us for a quotation for a group
of any size. Great Britain travel the way you want, with the ultimate choice of hotels and sightseeing. Whether you just want a base for excursions, or are planning an extensive itinerary, we can provide exactly what you want.
BOOK THIS TODAY! CALL LYNOTT TOURS AT (800) 221-2474 OR
Please Email us For Information
Call 1-800-221-2474 9AM - 6PM Mon-Fri Eastern Time or (516) 248-2042 outside USA/Canada
Although we have provided as much information as possible on our website, we are happy to answer your questions directly on the phone. Sometimes, it is just easier to speak to one of us. We are awaiting your call.