Harry Potter England Escorted Tour
Guided Tour to Harry Potter film locations - SMALL TOUR - THIS TOUR IS LIMITED TO 15 PERSONS

7 Day/5 Nights visiting Harry Potter sites
Departs to London on Thursday, ends in London on Wednesday

Go on location and discover the inspiration behind Hogwarts. Visit the Warner Brothers sets, Platform 9 3/4, Oxford 's Hogwarts Dining Hall, Lacock (Gordric's Hollow) and more.
Thursday - DEPART HOME Board your overnight transatlantic flight to London, England.


Friday - ARRIVE LONDON - Harry Potter London Tour Afternoon black taxi tour the London film locations used in all 6 Harry Potter films. Harry Potter 2 Hour Day Tour of London by Black TaxiYou will be Picked-Up (and Dropped-Off) from your hotel. Spend the day viewing the Harry Potter sights of London. Visit Kings Cross Station to see platform 9 ¾ where Harry starts his journey to Hogwarts School of Wizardry. Don't forget that the platform is not visible to Muggles! Take turns holding the handle of a baggage cart that British Rail has kindly cut in half and affixed to the wall — all the better to give the impression that it's disappearing into the magical alternative world where trains go to wizard school. Have that camera ready again as we approach the 'Leaky
Cauldron' and walk in the footsteps of Harry and Hagrin in the Victorian Leadenhall Market! Follow the route of the 'Knight Bus' around those little streets! Brockdale Bridge' is in one piece and you can walk across it! Continue on to Australia House on the Strand, home of the Australian High Commission, which was transformed into Gringotts Wizarding Bank. Take a stroll down Charing Cross Road which came to life as Diagon Alley where all the Wizard shops are. Stay overnight in London.


Saturday Spend the day viewing the Harry Potter sights of London. Warner Bros. Studio Tour London provides a thrilling new opportunity to explore the magic of the world-renowned Harry Potter film series – the most successful of all time. This unique walking tour takes you behind-the-scenes and showcases a huge array of beautiful sets, costumes and props. It also reveals some closely guarded secrets, including facts about the special effects and breathtaking animatronics that made these films so hugely popular all over the world. The Studio Tour is located at Warner Bros. Studios Leavesden, where all eight of the Harry Potter films were made. It's a wonderful day out for the entire family, and fully accessible to all. The Studio Tour lasts approximately three hours. Only a small part of it is guided, leaving you plenty of time and flexibility to explore the attraction at your leisure. While some parts of the tour are interactive and give you a fully hands-on experience, some items on display can't be touched because of their unique and precious nature. Inclusions •Return transportation to Warner Bros. Studio Tour London •Entrance ticket to Warner Bros. Studio Tour London Departs London 8AM. returning to London, you will have a Big Bus pass for a panoramic tour of London, plus an unforgettable London cruise. See several landmarks from the Order of the Phoenix's "wizard chase" sequence, where several members of "Dumbledore's Army" (Harry's Hogwarts student supporters) race on their brooms high above London toward a fight with Voldemort's loyal followers, the sinister Death Eaters. From your own "broom's eye" view atop the Eye, you'll be able to see many of the other notable London sights also featured in the climactic fly-over, including Big Ben, Parliament, Tower Bridge, and ¦
Buckingham Palace. Westminster Tube Station When traveling around London on "the Tube," make sure to stop at this gorgeously modern glass and steel underground station, which serves the Circle, District, and Jubilee lines and is one of the key locations Harry and Mr. Weasley (Ron's father) visit when traveling to a Ministry of Magic hearing. Also keep an eye out just down the road from the station for a red telephone booth near Scotland Yard that was used by the filmmakers as the secret entrance to the Ministry of Magic. Stay overnight in London. (CB)


HARRY POTTER STAMPS Issued just ahead of the release of Harry Potter and the Deathly Hallows™, the seventh and final Harry Potter book, Royal Mail is proud to commemorate and celebrate an illustrious British author and a true global publishing phenomenon. J.K. Rowling's schoolboy wizard was featured on seven first class Royal Mail stamps in 2007.
Sunday - STONEHENGE/LACOCK/ GLOUCESTER
Today we drive through the English countryside to see the mysterious circle of standing stones at Stonehenge. Continue your journey with a visit to the medieval village of Lacock. This village inspired the image of Gordric's Hollow - where Harry lived with his parents. Lacock Abbey was also used in various Hogwarts School scenes, including Professor Snape's Dungeon classroom. The beautiful village of Lacock will evoke memories in the minds of avid film buffs - it was also used in the period dramas Emma and Pride and Prejudice. Cantax Hill, Lacock was used in Harry Potter and the Half-Blood Prince. ages of Potter's Gordric's Hollow, Emma, and Pride and Prejudice. We continue to the Gloucester Cathedral - You'll almost certainly recognize part of the interior which doubled for the Hogwarts School of Witchcraft and Wizardry at this ancient cathedral, and the adjacent King's School.Memories include the Ghost scenes and talking portraits in 'Harry Potter and the Philosopher's Stone' ('Sorcerer's Stone' US version). The Cathedral is also featured in 'Harry Potter and the Chamber of Secrets' including the scenes featuring the ghost Moaning Myrtle, and the mysterious appearance of the red writing in Hogwarts' corridors. Originally built as an abbey in 1089, the cathedral features a medieval labryinth, world famous Gothic fan vaulting, and the stained glass of the Great East Window, along with the tombs of Edward II and Robert Duke of Normandy.Stay in Cheltenham. (CB)
Monday - COTSWOLDS/STRATFORD/OXFORD
Drive up through the pretty villages of the Cotswolds, a gentle rural landscape of classic English countryside, ancient Anglo Saxonsettlements and old medieval towns and villages. In Shakespeare's home town, Stratford-upon-Avon, with its half-timbered Elizabethan architecture, we see Anne Hathaway's Cottage, a picturesque thatched home. We have time at leisure to explore this delightful town with its ancient houses and unusual crafts and antique shops. We end our day in the city of Oxford, the university town. (B)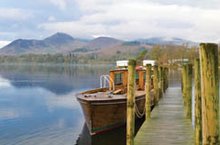 Tuesday - OXFORD/LONDON
In Oxford, your visit will include several of the colleges used in the making of Harry Potter films, including the grand staircase where Mrs. McGonagall greets the children and the Great Hall that provided the model for Hogwarts Dining Hall. The tour ends at Heathrow Airport, wherewe stay overnight. (B)
Wednesday -
LONDON/HOME
Board your return flight. Return home with great memories of the new friends you've made. (B)
Includes:
*Taxi and hop on hop off tour in London; Minibus or motorcoach with driver/guide elsewhere
*First-class accommodations for 5 nights; room with private bath.
*5 hearty breakfasts (CB & B)
*Baggage handling at hotels.
*All taxes and service charges.
*All sightseeing and entrance fees. Some highlights: London - Black taxi tour, hop on hop off tour, Thames cruise
England - Stonehenge, Anne Hathaways House, Lacock, Oxford Colleges
Passport Case with "What You Need To Know Before You Go"
Lynott Tours Baggage Strap

Your 3* & 4* hotels:
London Doubletree Chelsea 2 nights
Cheltenham Queens Hotel 1 night
Oxford Puma Oxford Hotel 1 night
London Jurys Heathrow Inn 1 night
Call 1-800-221-2474   9AM - 6PM or Please Email Us For Information
PRIVATE DEPARTURE
means this departure is already booked for a private group.
NOT AVAILABLE means this date is sold out for a scheduled tour, but a private tour is possible.
GUARANTEED
means that the scheduled tour is guaranteed to go, and there are still a few seats available
2015
Departs to London Thursday
Returns from London Wednesday
Est. Air/Land JFK* USD
LAND ONLY
7-May
13-May
         3,516
2340
sold out
21-May
27-May
         3,516
2340
sold out
4-Jun
10-Jun
         3,516
2340
sold out
18-Jun
24-Jun
         3,516
2340
sold out
2-Jul
8-Jul
         3,516
2340
sold out
16-Jul
22-Jul
         3,516
2340
private
30-Jul
5-Aug
         3,516
2340
private
13-Aug
19-Aug
         3,476
2340
4 seats left
27-Aug
2-Sep
         3,476
2340
sold out
10-Sep
16-Sep
         3,476
2340
4 seats left
SINGLE SUPPLEMENT
664
CHILD REDUCTION 5-11
265
If you have just 6 persons in your party, we can give you a PRIVATE DEPARTURE JUST FOR YOUR GROUP AT NO ADDED COST, on any day.
A group of 8 or more - save 5%.
Harry Potter Day Tours
Please be advised that Harry Potter is a fictional character, and that you will not actually be seeing Harry on the tour. The tour has been planned to visit sites important in the first movies. You will no doubt recognize many of the places from the films. An active imagination is all that is required to recreate the scenes in your mind.
Call 1-800-221-2474   9AM - 6PM or Please Email Us For Information
Planning a school trip? Family Vacation?
If you have a group of students, friends or family (6 or more), we can arrange a private escorted tour for you of Harry Potter sites. Prefer to visit
Order of the Phoenix, Goblet of Fire, Harry Potter and the Chamber of Secrets , Harry Potter and the Half-Blood Prince
locations instead? Call for details!
This themed tour is not an official Harry Potter event and is not endorsed nor sanctioned by Warner Bros. Entertainment, the Harry Potter book publishers or J.K.. Rowling and her representatives. "Harry Potter" and related marks are the property of Warner Bros.
Planning a group tour?
Ask us for a quotation for a group
of any size. Great Britain travel the way you want, with the ultimate choice of hotels and sightseeing. Whether you just want a base for excursions, or are planning an extensive itinerary, we can provide exactly what you want.
Please Email Us For Information
Call 1-800-221-2474 9AM - 6PM Mon-Fri Eastern Time or (516) 248-2042 outside USA/Canada
Although we have provided as much information as possible on our website, we are happy to answer your questions directly on the phone. Sometimes, it is just easier to speak to one of us. We are awaiting your call.