A Scottish Journey - From Edinburgh to the Highlands & Isle of Skye, Isles of Mull & Iona
Inverness, St. Andrews, Isle of Skye, Isle of Mull & Isle of Iona
10 DAYS • 9 NIGHTS • UP TO 18 GUESTS
Small Group tour of Scottish Highlands and Hebrides Islands. See castles of Scotland. Towering mountains and enchanting lochs. Dramatic cliff-top castles and hideaway villages. Infamous battles and inexplicable legends. We journey up and down Scotland, from coastal cities to Hebridean Islands, seeking out its one-of-a-kind landscapes, mesmerising history and undeniable charm. Visit the Isle of Skye, and travel from Mull to the religious center of Iona.
THE LYNOTT DIFFERENCE 
Meet the Highland cattle and tuck into a beef tasting lunch at the Aberdeenshire Highland Beef Farm
Spend days touring the breathtaking Isle of Skye and Isle of Mul
Uncover the intricacies behind Scottish whisky culture with a tasting experience
Immerse yourself in the captivating history of Culloden Battlefield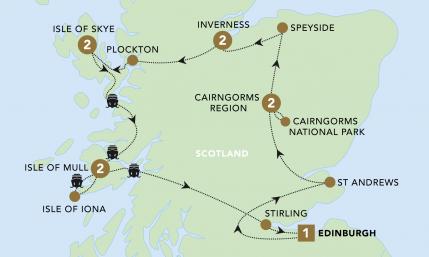 Day 1 - Edinburgh
Majestic landscapes, scenic roads and imagination-firing landscapes: Scotland delivers on every level. After meeting the group at our hotel, we'll get to know each other over a delicious welcome meal. Accommodation: Eden Locke (or similar) (D)
Day 2 - Edinburgh – St Andrews – Royal Deeside
After breakfast, we'll board the mini-coach and take to the scenic route. Now, the journey begins! Travelling along the coast, we'll stop in at tiny East Neuk fishing villages before reaching St Andrews: a small town with a big reputation for world-class golf. Later today, we'll check into our accommodation in Royal Deeside. Accommodation: Loch Kinord Hotel (or similar) (B)

Day 3 - Royal Deeside
Get ready to dive into a day of truly authentic Scottish experiences. First, we'll take a tour of a local Highland beef farm, where we'll meet some of the country's famous Highland cattle and enjoy an included lunch. Then, a lesson in Scotch whisky awaits. We'll uncover the centuries-old legends and intricate processes behind turning malted barley into 'liquid gold' – sampling a dram or two while we're at it. This evening, we'll have some free time to spend as we wish. Accommodation: Loch Kinord Hotel (B,L)

Day 4 - Royal Deeside – Cairngorms National Park – Culloden Battlefield – Inverness
Our day will begin in dramatic fashion as we travel through the awe-inspiring scenery of Cairngorms National Park on the way to the atmospheric Culloden Battlefield. At the Visitor Centre, we'll immerse ourselves in the fascinating history of the Highlands and gain a unique insight into the battle that took place on this vast moorland. Our final stop of the day will be Inverness, the welcoming capital of the Highlands. Tonight, we'll come together to share stories of the day's adventures over an included meal. Accommodation: The Kingsmills Hotel (B,D)
Day 5 - Inverness
After this morning's orientation tour, the city is your oyster. Visit Inverness Castle and Cathedral, explore the charming Victorian Market or simply hunt down a good pub to relax in. What you do today is completely up to you! For dinner tonight, why not take advantage of the array of local eateries filled with character and delicious Scottish fare. Accommodation: The Kingsmills Hotel (B


Day 6 - Inverness – Plockton – Isle of Skye
This morning, we'll take the scenic route via Scotland's iconic Loch Ness – seeing if we can spot the illusive Nessie from the shore. Then: a visit to the quaint village of Plockton, where painted cottages cluster around a picturesque bay. We'll have the opportunity to stroll the harbour and observe the passing yachts – before enjoying lunch at our leisure. The day's final destination will be the breathtaking region of Skye: our home for the next two nights. At our hotel, we'll share the excitement for tomorrow's adventures over an included dinner. Accommodation: Uig Hotel (B,D)

Day 7 - Isle of Skye
Sensational landscapes, rare wildlife and imagination-firing history – the Isle of Skye delivers on every level. This is North Highland scenery on a grand scale! We'll spend the day taking in the island's unique geology and jaw-dropping scenery – including the extraordinary Quiraing, Kilt Rock and Old Man of Storr. After a full day of exploring, we'll have the evening free to dine at our leisure or relax in our idyllic surrounds. Accommodation: Uig (B)

Day 8 - Isle of Skye – Isle of Mull
Today we'll continue our journey through soul-stirring Scottish scenery before taking a short ferry ride over to the breathtaking Isle of Mull. Here, the evening will be yours to spend as you please. Accommodation: The Western Isles (B)
Day 9 - Isle of Mull – Isle of Iona – Isle of Mull
First today, we'll visit the grand staterooms and empty dungeons of the imposing Duart Castle – the oldest inhabited castle on the island. Then: the best way to see the Hebrides is by island hopping – and this afternoon, we'll do just that. From Mull's little village of Fionnphort, we'll set sail to Iona: where the Abbey and Nunnery await us. After a busy day, we'll return to our hotel on Mull to enjoy a final dinner together. Accommodation: The Western Isles (B,D)

Day 10 - Isle of Mull – Stirling – Edinburgh
Back to the mainland we go. It's been a tour that's delved deep into Scotland's heritage, so it's only right that we finish with a stop in historic Stirling. A drive through the Old Town will bring us to the magnificent hilltop castle, one of Scotland's most impressive and significant monuments. Here, we'll spend some time exploring the castle's many rooms and soaking up the sweeping views from atop the castle walls. What better way to round off our tour before returning to Edinburgh. (B)
If your flight returns early in the day, you may wish to book an extra night in Edinburgh.  We can help with that.
INCLUSIONS
9 nights in boutique accommodation
Experienced Lynott Tour Leader and Driver
Premium mini-coach transportation
Daily full Scottish breakfasts (B), 1 lunch (L), 4 dinners (D)
Beef tasting lunch at the Aberdeenshire Highland Beef farm
Whisky tasting session
Entrance included to all attractions in the itinerary, including: , the Culloden Battlefield Visitor Centre and Duart Castle
This tour begins and ends at Eden Locke. Pre and post stays are available.
Not Available - No individual space available.Guaranteed=Guaranteed to go, and there are still a few seats available. Book now.
Private Departure=Departure booked by a group. No individual space available.
What will our hotels be like? Elegant, comfortable hotels, inns and castles which give you always reflect character and charm, A true feeling of the country that you are in. Not purpose built cookie-cutter hotels, each is unique and exudes its own charm.This traditional hotel, in an idyllic setting, with spectacular views across the sound of Sleat to the Knoydart Hills, retains its old world charm giving each guest a truly genuine highland welcome from the moment you arrive.
Sep-22
Thu 1 Sep
Sat 10 Sep
US$4,209

Tue 6 Sep
Thu 15 Sep
US$4,209
Tue 13 Sep
Thu 22 Sep
US$4,209
Tue 20 Sep
Thu 29 Sep
US$3,827.55

Thu 22 Sep
Sat 1 Oct
US$4,029
Thu 29 Sep
Sat 8 Oct
US$3,699

Apr-23

Tue 4 Apr
Thu 13 Apr
US$3,749
Tue 18 Apr
Thu 27 Apr
US$4,009
Thu 27 Apr
Sat 6 May
US$4,009

May-23

Tue 2 May
Thu 11 May
US$4,099
Tue 9 May
Thu 18 May
US$4,099
Thu 11 May
Sat 20 May
US$4,099
Tue 16 May
Thu 25 May
US$4,099
Tue 23 May
Thu 1 Jun
US$4,099
Thu 25 May
Sat 3 Jun
US$4,149
Tue 30 May
Thu 8 Jun
US$4,149

Jun-23

Tue 6 Jun
Thu 15 Jun
US$4,229
Thu 8 Jun
Sat 17 Jun
US$4,269
Tue 13 Jun
Thu 22 Jun
US$4,149
Thu 15 Jun
Sat 24 Jun
US$4,149
Thu 22 Jun
Sat 1 Jul
US$4,229

Jul-23

Thu 6 Jul
Sat 15 Jul
US$4,089

Tue 11 Jul
Thu 20 Jul
US$4,129
Thu 13 Jul
Sat 22 Jul
US$4,009
Thu 20 Jul
Sat 29 Jul
US$4,009
Tue 25 Jul
Thu 3 Aug
US$4,229
Thu 27 Jul
Sat 5 Aug
US$4,189

Aug-23

Tue 1 Aug
Thu 10 Aug
US$4,269
Tue 8 Aug
Thu 17 Aug
US$4,189
Tue 15 Aug
Thu 24 Aug
US$4,189
Tue 22 Aug
Thu 31 Aug
US$4,269
Thu 24 Aug
Sat 2 Sep
US$4,229
Thu 31 Aug
Sat 9 Sep
US$4,189

Sep-23

Tue 5 Sep
Thu 14 Sep
US$4,189
Thu 7 Sep
Sat 16 Sep
US$4,229
Tue 12 Sep
Thu 21 Sep
US$4,189
Thu 14 Sep
Sat 23 Sep
US$4,189

Tue 19 Sep
Thu 28 Sep
US$4,009
Thu 21 Sep
Sat 30 Sep
US$4,009
Thu 28 Sep
Sat 7 Oct
US$3,679

Oct-23

Tue 3 Oct
Thu 12 Oct
US$3,609
Thu 12 Oct
Sat 21 Oct
US$3,609
Single supplement $1110
Call +1-800-221-2474 9AM - 5PM Mon-Fri Eastern Time Please Email Us For Information