Scottish Dream Guided Tour
Scottish Dream 8/9 Day First Class Escorted Tour
The best of Scotland travel - from Glasgow to Edinburgh, the highlands, Skye, Inverness, the whisky trail, St. Andrews and more. This 8 or 9 day Scotland bus tour is just one of our ways to visit Scotland. This grand tour of Scotland covers it all.  What else could you ask for in a guided tour of Scotland?
Call +1-800-221-2474 9AM - 5PM Mon-Fri Eastern Time Please Email Us For Information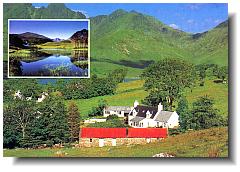 Day 1: Glasgow City Tour
Your Scotland Guided Tour starts at 2:30 pm when you meet your tour director at your Glasgow hotel and set out on an introductory tour of central Glasgow. See the main attractions of Glasgow including red sandstone Victorian buildings, delightful parks, Glasgow Cathedral and the River Clyde, once famous for shipbuilding, especially during the 19th century when the city burgeoned. Visit extensive and varied art collections in Kelvingrove Art Gallery and Museum, originally opened in 1901. Chat with your tour director and your fellow travelers about your trip with a welcome drink before dinner in your hotel. (D)


Day 2: Loch Lomond Cruise & Inveraray Castle

Your grand tour of Scotland departs Glasgow and goes north along the banks of Loch Lomond with views of Ben Lomond and other Highland peaks. At Tarbet embark on a short cruise to appreciate the beauty of this famous loch and admire panoramic views of the Highlands. Browse around the town of Inveraray before visiting Inveraray Castle, which featured in Downton Abbey's Season IV production. This imposing Campbell family home with four conical spires was built between 1746 and 1789. A guided tour will reveal the history of the family and region as you view the magnificent Armory Hall and many fine rooms with tapestries, porcelains and portraits. Journey across mysterious Rannoch Moor and through Glen Coe, often considered one of Scotland's most spectacular and beautiful places. Continue to Ballachulish on the coast. (B, D)
Day 3: Road to the Isles & Isle of Skye
This morning head north via Fort William and take the "Road to the Isles" through some of Scotland's loveliest scenery, stopping for photos at the Glenfinnan Monument. Along the Scottish coast with its miles of dramatic cliffsides and seaweed strewn beaches, Ft. William is a compelling destination.  Great azure strips of heather, leading to the sea, dramatic glens and fields, and wild and mountainous country surround this area. At Mallaig cross by ferry to the Isle of Skye, sometimes called the "Misty Isle" due to the hazy weather brought by the Atlantic breezes. Visit the Clan Donald Centre at Armadale Castle to discover the history of the Lords of the Isles and the most powerful clan of the Isle of Skye. Drive through part of the island and return to the mainland by bridge, stopping for photos at the picturesque Eilean Donan Castle. Then drive along the beautiful shores of Loch Ness, famous for its monster. Continue to your hotel in Nairn, a manor house property set in spacious grounds near the North Sea. (B, D)


Day 4: Culloden Battlefield & Sheepdogs
A short distance from Nairn is the Culloden Battlefield Visitor Centre. Learn about the battle which took place on 16th April 1746 when British Government forces defeated the army of Prince Charles Edward Stuart, popularly named Bonnie Prince Charlie, in just one hour. The Visitor Centre shows the background to this bloody battle and you can walk around the moorland to see various monuments commemorating troops. Continue through majestic Highland scenery to Leault Farm for a demostration of trained dogs herding sheep. Drive south through the high peaks of the Grampian Mountains to your gracious manor-style hotel near Pitlochry and take a brief tour of this historic hotel and its museum. (B, D)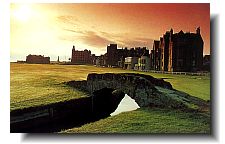 Day 5: Blair Castle & Whisky Tasting
A short drive will bring you to Blair Castle, home of the Dukes and Earls of Atholl. Dating back to 1269, the castle has been transformed through the ages, from a strong medieval fortress to a Victorian castle in the baronial style. These influences can still be seen today across the 30 rooms on full display. You will learn about Mary, Queen of Scots, Bonnie Prince Charlie and how Queen Victoria's famous stay led to the creation of Europe's only private army, the Atholl Highlanders. Visit Blair Athol Distillery to learn about the simple ingredients and many steps involved in whisky making. Tour the facilities and sample a "wee dram" at the end of the tour. Spend the afternoon at leisure to explore the gardens, hotel museum and other facilities or browse around the town of Pitlochry, within easy walking distance. (B, D)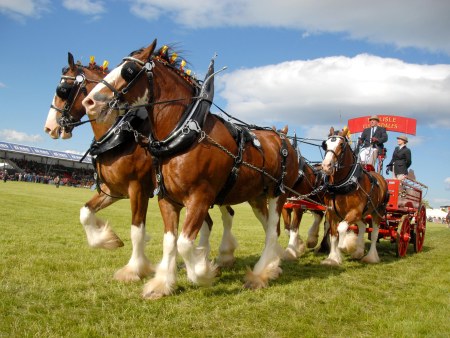 Day 6: Glamis Castle & St Andrews
Travel through lush countryside to visit Glamis Castle, the legendary setting of "Macbeth" and childhood home of the late Queen Mother. This is a majestic building and filled with contrasting priceless artifacts and homely furnishings. Drive across the modern Tay Bridge to St Andrews, the "Home of Golf." See the famous Royal and Ancient Clubhouse and the Old Course and enjoy free time to browse in golf specialty stores or through the medieval town with its ruined cathedral and castle. This is the location of Scotland's oldest university. Drive south into Edinburgh, Scotland's capital, and enjoy a Scottish Evening with dinner and lively singing, story-telling and step-dancing. (B, D)
Another hint for you is to learn some differences in Irish English and American English: Articulated lorry--semi truck. And they make the same wide turns in Ireland that they do in the US, just in the opposite direction.
Day 7: Edinburgh Castle & City Tour
This morning explore Edinburgh on a sightseeing tour. Nowhere else in the world is like Edinburgh, Scotland's capital.  From the grandeur and pomp of its 12th century castle, the Royal Mile leading down through medieval Old Town and the gardens and squares of New Town to Holyrood, a royal palace, the city blends history, entertainment and sophistication.  See Princes Street, the main shopping thoroughfare that separates the two areas. Learn about many prominent Scottish inventors, doctors and writers. Tour the imposing Edinburgh Castle where you can see historic buildings and enjoy splendid views of Edinburgh. The balance of the day is free for independent exploring, shopping and dining. On August 2 – 23 departures, enjoy the Royal Edinburgh Military Tattoo at the Castle esplanade. (B)
Day 8: Depart for U.S.
Scottish Dream Includes:

GROUP AIRPORT TRANSFERS
When we book your flights together with a coach tour, we include complimentary group transfers on the starting and ending date of tours at times specified on each itinerary-a $30 per person fee applies to land only bookings.

Sightseeing by luxury coach
Professional tour director
7 nights in hotels listed
7 breakfasts, 5 dinners including a festive Scottish evening in Edinburgh
Blair Athol Distillery Blair Castle Culloden Battlefield Edinburgh Castle Cruise on Loch Lomond Inveraray Castle Isle of Skye Kelvingrove Art Gallery & Museum St Andrews
Headsets for walking tours
Deluxe carry-on backpack, ticket wallet, luggage tags & strap
All local taxes, hotel service charges & porterage for one suitcase per person
Free Wi-Fi on coaches and in hotel lobbies
Call
+1-800-221-2474
9AM - 5PM Mon-Fri Eastern Time
Please Email Us For Information
Your Superior first-class hotels: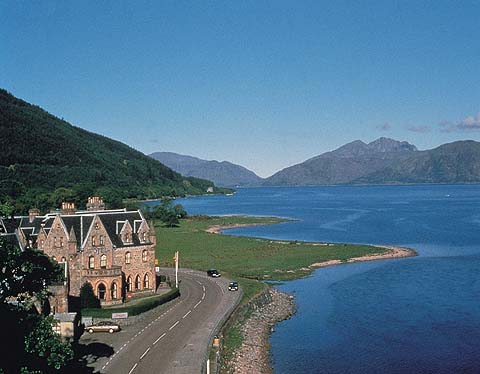 Hilton Glasgow Grosvenor | Glasgow (1 night) *
Isles of Glencoe Hotel | Ballachulish (1 night) *
Muthu Newton Hotel | Nairn (1 night) *
Atholl Palace Hotel | Pitlochry (2 nights) *
Macdonald Holyrood Hotel | Edinburgh (2 nights) *
ONLY ONE TRIPLE ROOM IS AVAILABLE PER DEPARTURE - BOOK EARLY. Save 10% per person on coach land tour prices if you are 8 & under 17 and traveling with at least one full fare paying passenger. Airfare is available from many cities. Just ask.
| | |
| --- | --- |
| Start Date | USD per person |
| 6/22/2022 | 2725 |
| 6/26/2022 | 2725 |
| 6/29/2022 | 2725 |
| 7/3/2022 | 2320 |
| 7/6/2022 | 2320 |
| 7/8/2022 | 2725 |
| 7/10/2022 | 2320 |
| 7/13/2022 | 2725 |
| 7/22/2022 | 2725 |
| 7/24/2022 | 2725 |
| 7/27/2022 | 2320 |
| 7/29/2022 | 2725 |
| 7/31/2022 | 2645 |
| 8/3/2022 | 2645 |
| 8/5/2022 | 2645 |
| 8/7/2022 | 2645 |
| 8/10/2022 | 2645 |
| 8/12/2022 | 2645 |
| 8/14/2022 | 2645 |
| 8/17/2022 | 2645 |
| 8/19/2022 | 2645 |
| 8/21/2022 | 2645 |
| 8/24/2022 | 2725 |
| 8/26/2022 | 2725 |
| 8/28/2022 | 2725 |
| 8/31/2022 | 2725 |
| 9/2/2022 | 2725 |
| 9/4/2022 | 2725 |
| 9/7/2022 | 2320 |
| 9/9/2022 | 2320 |
| 9/11/2022 | 2725 |
| 9/14/2022 | 2725 |
| 9/16/2022 | 2320 |
| 9/18/2022 | 2725 |
| 9/21/2022 | 2320 |
| 9/23/2022 | 2725 |
| 9/25/2022 | 2725 |
| 9/28/2022 | 2715 |
| 9/30/2022 | 2715 |
| 10/2/2022 | 2570 |
| 10/5/2022 | 2570 |
| 10/7/2022 | 2570 |
| 10/9/2022 | 2525 |
| 10/12/2022 | 2140 |
| 10/16/2022 | 2525 |
| 6/12/2022 | 2320 |
| 10/19/2022 | 2140 |
| 10/14/2022 | 2140 |
| 10/21/2022 | 2035 |
| 8/1/2022 | 2645 |
| 8/8/2022 | 2645 |
| 8/15/2022 | 2645 |
Cancellation Penalties: Airfare up to 100%; Land: Penalties per person apply: 70 days or longer: Forfeiture of deposit 69 - 46 days: 35% per person 45 - 8 days: 45% per person 7 - 1 days: 60% per person, On day of departure: 100% per person Travel Insurance
Call +1-800-221-2474 9AM - 5PM Mon-Fri Eastern Time Please Email Us For Information
Scotland Guided Tour - Scotland bus tour