Scotland Outlander Guided Tour

Outlander, the tv series inspired by the historical romance novels by Diana Gabaldon is the basis for our 4 day tour of Scotland. We offer an Outlander tour of Scotland where you can follow in the footsteps of our epic lovers, Jamie and Claire, visiting locations used in the filming of the series.  Share this unique and special experience with Outlander fans from around the world, discuss your favorite quotes from the books and shows and soak up the mystic and romantic atmosphere of Scotland. Book early to ensure your place on this unique tour! No more than 16 on board.

On this tour, your guide takes you through a fantastic array of Outlander sights while telling you all about the history that inspired the famous show. They call her Outlander, a name given to an outsider ignorant of Scottish Highland culture and one of the generally hated English as well.
4 Day Outlander Tour - Blazing the Jamie & Claire Trail BOOK THIS TODAY! CALL LYNOTT TOURS 9AM-5PM MONDAY-FRIDAY AT (800) 221-2474
Small group tour - limited to 16 persons
Clava Cairns - Travel through winding back roads and discover a 4,000 year old cemetery.
Doune Castle - One of the most filmed castles in Scotland. It stars as Castle Leoch in Outlander, and featured in Monty Python's 'Holy Grail', and the pilot for Game of Thrones.
Loch Ness - Take a chance to go on an optional boat cruise or wander around this alluring and eerie loch.
Glen Affric - Lochs, mountains and pine forests: this is one of Scotland's most glorious glens. It's also a great hiding spot for Jamie!
Culloden - A sad place to visit. It's the location of a tragic Outlander scene, and a catastrophic battle between Jacobites and Government troops.
Culross - This town looks like it never left the 16th century. It was also the setting for the fictional Outlander town, Cranesmuir.
Falkland - This quaint town in the Kingdom of Fife boasts a beautiful palace and a serene setting.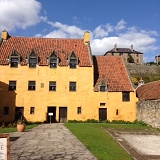 Day 1 You leave Edinburgh with your guide – might it even be a red haired Scot named Jamie? Today you follow the trail of film locations featured in the Outlander TV Series. On your way north to Inverness your first visit will be Culross, the fictional village of Cranesmuir and the home of Geillis Duncan and her ill-fated husband Arthur. Exploring the towns charming cobbled streets is like going back in time. Look carefully and you may even find Claire's herb garden behind the impressive, historic Culross Palace. You continue to the small town of Falkland to revisit one of the first scenes of the show. Falkland substitutes for 1940s Inverness and in the town centre see if you can recognize the familiar sights such as the cozy looking Mrs. Baird's Guesthouses (The Covenanter Hotel), the Bruce Fountain where Claire sees the ghost of Jamie. Also Campbell's Coffee Shop or Farrell's Hardware and Furniture Store (Fayre Earth Gift Shop), where Claire stops to look at the window stocked with authentic period merchandise. Early afternoon you stop at the Newtonmore Highland Folk Museum, which houses replica of 18th century turf-roofed Highland crofts making it a perfect choice for the period scenes. You can see them in scenes filmed in and around the Mackenzie village, as well as the background of the scene where Claire, Jamie and his clansmen shelter in the first episode, and later when Dougal collects the rent. Heading ever further north you will pass Aviemore. Will you be able to recognize the stunning hilly and wooded area of Tulloch Ghru near Aviemore, which appears during the journey Claire takes with Jamie and the Highlanders from Craigh na Dun to Castle Leoch? You may also recognize it from the opening credits. Arriving in Inverness later that afternoon with accommodation at the Glen Mhor Hotel (or similar).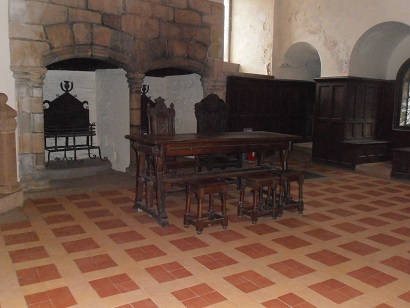 Day 2 Your day will start with you visiting the beautiful area of Glen Affric, surrounded on all sides by stunning Caledonian pine forest. This is big Scottish countryside, ideal for our Jamie to hide! In the afternoon we visit Culloden, which plays an important role in Scottish history and the Outlander books. It's not far from the Culloden Battlefield where Claire and Jamie said their tearful goodbyes, before Jamie joined the Jacobite army to fight for the Stuarts. You have the opportunity to explore the visitor centre and site, and pay tribute to those who lost their lives at the last battle fought on British soil.
You then take a short drive to the ancient standing stones at Clava Cairns, which could have given the inspiration for Craigh na Dun. We return back to Inverness with time to explore the town and enjoy the city for another evening.
BOOK THIS TODAY! CALL LYNOTT TOURS 9AM-5PM MONDAY-FRIDAY AT (800) 221-2474
Day 3 A short drive this morning will take you to Beauly, the site of Beauly Priory and the tomb of Lord Lovat in the heart of Clan Fraser lands. Beauly priory is a beautiful 13th century ruin and, according to Diana Gabaldon's book, it is where the Lovat Frasers are buried. From here you continue to Castle Leod, seat of the Clan Mackenzie, where we have the opportunity here to enjoy a relaxing walk in the grounds while your guide tells you some of the history of the Clan and the castle. The Castle has a striking resemblance to how Gabaldon has described Castle Leoch, however she had never heard of the castle prior to writing Outlander. In the afternoon, you have the opportunity to sample 'The Water of Life' with a whisky distillery tour and tasting. There might even be time to look out for the Waterhorse at Loch Garve! You then continue along the entire length of Loch Ness – another opportunity for some monster spotting before arriving in Fort William for overnight.

Day 4 You will be travelling to Glenfinnan this morning to visit the monument which commemorates the beginning of the last Jacobite rising. It stands framed amid typically spectacular Highland scenery at the head of Loch Shiel with sweeping glens as a backdrop. You continue through magnificent Glencoe, one of Scotland's most famous and most scenic glens. From here you cross the rugged Trossachs area and onto Doune Castle near Stirling, which is featured as Castle Leoch in the TV programme. The Castle which is an extensive ruin is standing in for Castle Leoch in the TV programme, home to Colum MacKenzie and his clan in the 18th century episodes. You will be returning to Edinburgh later that afternoon with a photo stop at Blackness Castle on the banks of the Firth of Forth.
Includes: Accommodation with breakfast plus tour with your very own 'Gabaldon' enthused driver guide.
2023
1/APR/23 to 31/MAY/23, 1/OCT/23 to 31/OCT/23
01/JUN/23 to 30/SEP/23
Adult 
Adult 
B&B Shared
682
708
B&B Single
787
814
Hotel Shared
780
806
Hotel Single
1,012
1,039
Accommodations subject to availability
Wednesday April-Oct
Friday May-Oct.
For tours of 3 days (except 3DSKY) and longer departures are from Edinburgh Bus Station (Stance J & K) - St Andrew's Square - Edinburgh EH1 3DQ
Planning a group tour?
Ask us for a quotation for a group of any size. Great Britain travel the way you want, with the ultimate choice of hotels and sightseeing. Whether you just want a base for excursions, or are planning an extensive itinerary, we can provide exactly what you want.

Questions? Contact Lynott Tours, your Scotland travel agents at 1 (800) 221-2474USA & Canada  Please Email Us For Information

Call +1-800-221-2474 9AM - 5PM Mon-Fri Eastern Time Please Email Us For Information